Faculty of Philosophy
Latin/Classical Philology
The Latin Studies degree programme, more precisely described as Latin Philology, is devoted to the study of Latin texts that have been handed down from antiquity, including the examination of these in terms of their linguistic-literary form as well as their placement within a historical-cultural context.
The core focus of the degree programme is on: 
Language, which as the medium of communication, is a prerequisite for the texts 
The texts as literature, including their formal composition 
The Hellenistic-Roman culture as context 
From a methodological perspective, two mutually-complementary approaches are of significance: One is historical and one is structural. The historical approach is concerned with the discernment of a text's origin as well as of its significance within the context of the time at which it was created. This approach adjoins Latin Philology to other antiquity studies, especially Ancient History, Archaeology, and Indo-European Studies. Together with these three disciplines, Latin Philology strives to explore ancient Greco-Roman culture. The structural approach focusses on the texts themselves, including their form, their message, and their stylistic-aesthetical qualities. This approach engenders a relationship with other philological disciplines that conduct research on similar topics within their own areas and allows for a comparative depiction of the complex interrelationship between ancient texts and the European literary tradition.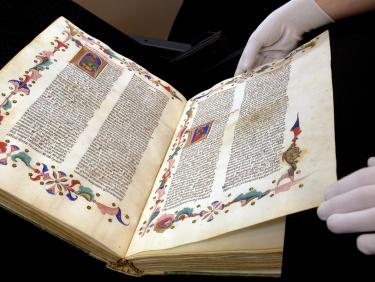 Special Features and Characteristics
Students in the Latin Philology programme at Heidelberg University have the opportunity to become acquainted with all of the many facets of this subject and to develop their own individual interests. They benefit from the focus on literary theory, which is emphasised in the numerous conferences, collaborative partnerships (e.g. with Modern Philology and Philosophy), and, in particular, within the international coordination office of the Theorie der Philologie. An additional benefit for students, made possible by the existence at Heidelberg University of the only chair in Germany for Latin and Greek linguistics, is the intense engagement with the linguistic aspects of the texts, which is also concretely reflected in the courses being offered. 
Students also have the opportunity to participate in the annual International Summer School for Latin Literature as well as in a wide number of international ERASMUS exchange programmes, (e.g. Bologna, London, or Geneva). Through collaboration with partners at the research group La poésie augustéenne, an opportunity also exists for students to study abroad in Cambridge, Oxford, or Rome.
The focus of Latin literary studies is the examination of literature in the Latin language, its history, and its reception in the European context. As an integral part of general and comparative literary studies, research on literature in Latin investigates the conditions that must exist to make scholarly statements about aesthetic and cultural phenomena possible in the first place, e.g.  
What is (Latin) literature? What is (classical) philology? 
How does one go about interpreting a text in Latin? What theories and methods can be used in the development of conclusions? 
Is it legitimate to speak of "literature" or "history" with regard to Hellenistic-Roman culture?  
The text itself always remains at the centre of these questions: In the reading courses, a method will be developed to reveal the structural literary properties peculiar to late Republicans (Catuli, Cicero), the Augustans (Vergil, Properz, Ovid) and Neronian lyricists (Lucan, Seneca). The objective is to approach philology as a means of exploring the historiography of texts, and to view it as an "archaeology of modernity" that renounces anachronisms and permits an understanding of the potential "modernity" of the ancient literature that has been handed down. 
Within Classical Philology, the subdiscipline of linguistic studies is closely associated with literary studies. Taking into account systematic and historical factors, linguistic studies is devoted to the formal description of the Latin language itself. Among its aims is elucidation of the underlying Greek and Roman concepts of language theory, which continue today to underpin modern linguistics in Europe and elsewhere in the world. An additional area of focus is analysis of the rules and modalities for prosody and metre of Greek and Roman poetry, along with its stylistic and rhetorical aspects.
The majority of students who pursue a degree in Latin Philology do so in order to become Latin teachers at the Gymnasium level (upper secondary school). Along with teaching careers, many other career options are available to Latin experts: Following completion of the degree programme, students may pursue a doctoral degree and work in teaching and research at a university. Libraries, (academic) publishing houses, and museums represent further professional options. The interdisciplinary skills learned as a part of the Latin Studies programme, such as the ability to easily assimilate new topics and to think flexibly, provide graduates with qualifications that also prepare them for potential careers in corporate or organisational management. 
I study Latin Studies because I enjoy reading original sources in Latin. What I find particularly fascinating is that these texts are still valid and applicable today. I also like how precise the language is but that it nonetheless allows for very complex interpretations in terms of content.
Christina Hermann, 22, Latin Studies, 6th semester Teaching degree