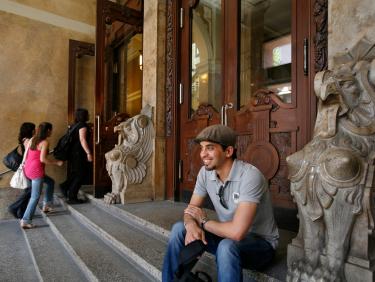 International Profile
Heidelberg University is tied into a worldwide network of research and teaching collaborations.  The primary aim of further expanding cooperation with partner institutions internationally is to use the various expertise and perspectives to leverage additional research potential and to qualify young scientists for international competition.
Links
Study abroad
Heidelberg University maintains numerous partnerships and exchange programmes with universities all over the world and supports its students in planning and carrying out stays abroad.
Studying in Heidelberg
Its wide range of study programmes makes Heidelberg University an attractive choice for students from all over the world: roughly one-fifth of the university's students and one-third of doctoral candidates are foreign nationals.
Links
Working and researching abroad
The university offers scientists and employees a wide range of opportunities for a teaching or research stay or for further training at numerous universities in Europe or worldwide.
Working and Researching at Heidelberg
The university supports international scholars in planning research visits; this includes immigration issues at the local Heidelberg level and looking for accommodation.
Centres Abroad
Foreign branch offices increase Heidelberg University's international visibility. The Ruperto Carola branch offices fulfil the function of scientific hubs for regional studies, are service centres for all university facilities and open the way for foreign graduates to Heidelberg.