Online-Service
Online-Service
Our online functions are intended to save you steps as well as simplify and speed up the various processes. Please use these functionalities to your benefit. Using the online functions is voluntary. Naturally you can also continue to pay your fees via bank transfer and take care of the administrative procedures cited below in the respective offices.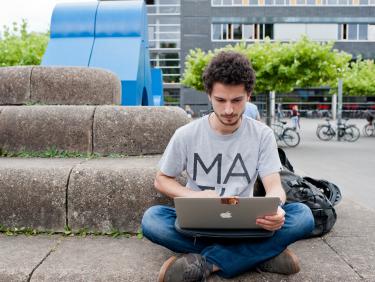 You can use our online services for the following: 
Re-register online for the next semester (you can transfer the required fee via our secure payment system). 
Access and print certificates (available directly after successful re-registration) 
Amend address information or your student identification picture directly in our database. 
To make use of these online functionalities, you will need a username, a password and transaction numbers (TAN). You will be able to generate TAN numbers for your own use. 
Our online services also enable students to access certain elements of their student data, as well as information relating to their examinations.  
LSF: Teaching, Studying and Research
Heidelberg University uses the LSF software to provide the Heidelberg University LSF portal, a central information system that offers details on courses and lectures, departments, facilities, and university members.
LSF includes the possibility for students to edit selected student data and the organization of exam management. Currently, 600 people of all institutes are authorized to modify seminars, lectures and personnel data in the LSF. The URZ assists them with training sessions and phone support.
By paying your semester contribution (fee for student services and administrative costs) by the re-registration deadline, you are notifying the university that you wish to continue your studies the following semester.

Re-registration period
For the summer semester: 15 January to 15 February
For the winter semester: 15 June to 15 July

You can credit your account and re-register immediately by paying your semester contribution via debit authorization within the re-registration period.
Log in to the "Teaching, Study, and Research" (LSF) portal and select the "Pay & re-register" function. Verify that the amount due is correct and enter your bank details for the debit authorization. For this you need a valid TAN number.
Your debit authorization is valid only for re-registering for the current, upcoming semester; a new debit authorization must be issued for each subsequent semester.
After re-registering online, you can immediately print out your certificates and student ID for the new semester.
Use this online function to print out the following certificates:
    Semester data sheet (to save in your academic record)
    Enrolment certificate
    National student grant (BaföG) certificate of receipt
The verification number is used to verify the certificate's authenticity.
Use this function to change your contact data.
This includes
Change of address (street address, city)
Change of telephone number
Change of e-mail address