Supporting the specialised funds
Scientific Heritage Fund
Famous manuscripts, extraordinary collections, impressive museums and buildings, historical gardens – Heidelberg University holds countless treasures that need to be saved and preserved. The Scientific Heritage Fund is designed to help preserve the treasures held by Heidelberg University for future generations.
The Scientific Heritage Fund wants to implement required measures such as restoring the University's collections and exhibits or refurbishing courtyards, gardens and buildings.The scientific collections are not only important for research and teaching, but several are also available to the wider public. Many of these collections include old documents and exhibits that require professional restoration or rooms in need of renovation. Besides, the Scientific Heritage Fund wants to support exhibitions and excavations. The fund is part of the university's corporate assets.
Numerous supporters have already helped with the realisation of projects. The latest project that could be supported was the exhibition "Heinrich Schliemann und Heidelberg: eine Spurensuche".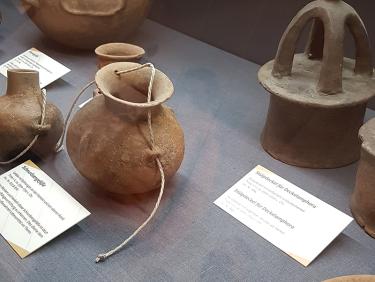 Thanks to the generous support, it was possible for us to create a modern special exhibition. In addition to the presentation of selected exhibits, we were able to integrate multimedia elements such as an audio and video station.
Stefanie Samida
On the following pages, you will get some interesting impressions of projects to which the Scientific Heritage Fund had aready been able to make a contribution. We would like to support further projects and measures in order to provide access to collections and to preserve historical exhibits, buildings and gardens in the future, for example. We would therefore be very pleased to receive your support. Thank you very much.
YOUR CONTACT FOR THE SCIENTIFIC HERITAGE FUND
Division for Foundations and Assets
T: +49 6221 54-12801
F: +49 6221 54-12980
Postal address
Division for Foundations and Assets
Universität Heidelberg
Seminarstr. 2
69117 Heidelberg