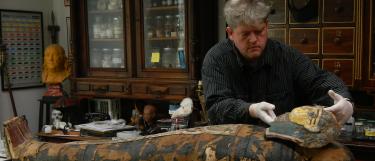 Restauration of the mummy Djed-Hor
Thanks to donations of friends and supporters, the mummy is coming back to life.
The Djed-Hor mummy is the precious gem of the renowned collection of the Institute of Egyptology at Heidelberg University. However, the ravages of time took a toll on the mummy of Djed-Hor: the bandages on the back had been badly damaged over the years as well as the face of the cartonnage mummy-mask. Due to a missing body shell, it was also not possible to carry out a CT scan for further scientific examination. In March 2018, Djed-Hor set our for a stay in the Hildesheim workshop of renowned mummy conservator Jens Klocke.
WHICH RESTORATION MEASURES HAVE BEEN CARRIED OUT?
With most of the deformations and tears repaired and the missing pieces filled in, the gold mask was restored to virtually its original condition, giving Djed-Hor his smile back. Other work included reassembling the chest, abdominal and leg cartonnage and manufacturing a body shell of glass-fibre-reinforced plastic for the underside of the mummy to reduce the bending load.
It was a real pleasure to extend my helping hand trough 2,000 years of history to Heidelberg's Djed-Hor mummy.
Jens Klocke, Restaurator
Before, during and after the restauration - Impressions