SUPPORTING THE SPECIALISED FUNDS
Young Researchers Fund
The University awards travel allowances and completion grants to help young researchers focus on their research or clear financial hurdles during the doctoral or postdoctoral phase. Your donations to the Young Researchers Fund help make such allowances possible.
Science and research thrive on exchange. The sooner young researchers personally experience international conferences, summer schools, and research sojourns, the better. Thanks to donations and endowment contributions to the Young Researchers Fund, multiple travel and completion grants have already been awarded to young researchers at Heidelberg University over the last several years. These grants not only give young researchers the opportunity to network with other young researchers early on, but also afford them key insights into the future of research in their field. In addition to travel allowances, the Young Researchers Fund also offers other funding options such as completion grants.  It wants to give impulses that enable doctoral candidates to actively shape science in the short or long term.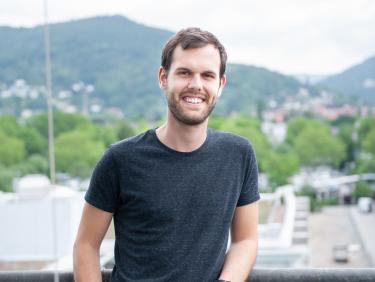 Current funding instruments
Completion grants for a maximum of 1,000 euros a month for up to six months
Travel allowances of up to 1,500 euros to make possible research stays or participation in international conferences and workshops
Project-related support, e.g. Summer Schools
Help us make sure that the young researchers of Heidelberg University get the support they need.
"I'm interested in what 'home' means to refugees."
The freedom Svenja had in choosing and covering her dissertation topic was pivotal in her decision to pursue her PhD at Heidelberg University – ideal conditions made even better by the receipt of the completion grant.
For Svenja, Heidelberg is so multi-faceted. She loves the contrast between the picturesque city and its university and the very lively urban developer scene. She is currently a PhD student at the Institute of Geography, where she is working on her dissertation on the meaning of 'home' in the context of flight and migration. "I'm interested in what 'home' means to refugees." In the course of her work, it is especially the interviews with people in Heidelberg that have moved her the most – people with a long period of migration and flight behind them who are struggling day-to-day under the most difficult conditions. The friendships she has developed have changed her views on many things. She is happy that thanks to the completion grant from the Young Researchers Fund, she is able to focus completely on her degree for the next six months.
Status as of July, 2019
INSIGHTS | OTHER SUPPORTED DOCTORAL CANDIDATES AND POSTDOCS (TRAVEL ALLOWANCES)
A grant from the Young Researchers Fund is an excellent opportunity for doctoral candidates who wish to advance their research. For them, a research trip is a major investment they can't often afford. For me, the confidence and the research freedom it gave me was extremely valuable.
Franziska M., dissertation on the culture and music market of the Bündische Jugend between 1918 and 1933
Thanks to the travel allowance, I was able to take part in the second largest radiology conference in the world. It gave me the opportunity to meet many outstanding radiologists and learn more about the current state of research in my field.
Yixin J., Medical Faculty (doctoral student), conference participation: European Congress of Radiology 2018, Vienna
I am from…
Suzhou, a beautiful city near Shanghai which is more than 2,500 years old.
I like Heidelberg because…
although it is quite a small city, it is still very international and cosmopolitan. You are really able to meet people from all over the world.
After finishing my doctorate, I would like to…
I am not sure, yet. I would like to stay in Heidelberg but could also imagine working in China or in the
US.
I chose Heidelberg University because…
it is one of the best universities for medicine.
My nicest experience at the University was…
when my advisor suddenly decided to hold our department's scientific meeting in English, because I still didn't speak any German.
In my research, I analyse…
CT and MRT images to better diagnose focal and diffuse hepatopancreatic diseases. The images also help me to directly observe the disease pattern and assess the effect of clinical therapies.

Status as of July, 2018
Networked from the start
Travel allowances are an important funding part of the Young Researchers Fund. They help clear financial hurdles to make participation in scientific exchange possible.
I work on innovative organic-inorganic perovskite solar cells. They were first discovered in 2012 and are now among the most efficient solar cells in existence, with many new application possibilities. The conference (Hybrid Electronic and Photonic Materials and Phenomena, Hong Kong) was a once-in-a-lifetime opportunity to meet, in a relaxed atmosphere, leading researchers in my field whose names were familiar only from publications.
Paul F., Kirchhoff-Institute for Physics (doctoral student), conference participation: Hybrid Electronic and Photonic Materials and Phenomena, Hong Kong
For me, typical Heidelberg is…
that there are many young people as well as the beautiful nature.
I have decided to do my doctorate at Heidelberg University because…
it was really exciting for me to be the first doctoral student at a completely new interdisciplinary institute at the Centre of Advanced Material.
What fascinates me about my field is…
that I was able to contribute to the understanding of the basic properties of perovskite solar cells.
Status as of August, 2018
The travel allowance allowed me to immerse myself in the scientific culture as an affiliate academic in English speaking countries – a key step after having completed my doctorate as well as after having started my postdoc.
Dr. Katharina J., Germanic Seminar, Postdoc
I have decided to do my doctorate at Heidelberg University because…
I was able to benefit from the expertise of people at Heidelberg University that was really important for my doctoral phase. Besides, Heidelberg University is characterized by many cooperations with renowned universities at home and abroad.
My favourite place on campus is…
I don't have a favourite place on campus but what makes Heidelberg University so appealing is the possibilty to switch between various charming locations.
My thesis dealt with…
the discursive attribution of responsibility in the mass media during the economic crisis from 2008 to 2010.
Status as of November, 2017
Your contact for the Young Researchers Fund
Division for Foundations and Assets
T: +49 6221 54-12801
F: +49 6221 54-12980
Postal address
Division for Foundations and Assets
Universität Heidelberg
Seminarstr. 2
69117 Heidelberg