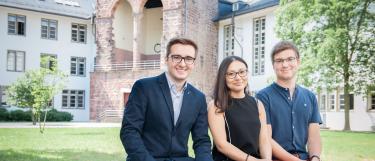 Welcome to the website of the Germany Scholarship at Heidelberg University!
The Germany Scholarship is a program initiated by the Federal Government and supports high-achieving and committed students. The amount of the scholarship is 300 euros per month, half of which is provided by funds raised by the university. The other half of the total amount of 3,600 euros per year is provided by the Federal Government.
You are a student and wish to apply for the Germany Scholarship? You are a private individual, foundation or company and want to get involved with the program? Then you will get all the information you need on this website.
Receiving the Germany Scholarship filled me with joy and pride from the moment I hold the acceptance notice in my hands. It showed me that a good performance, strong will and resilience are worthwhile. Having been selected as a scholarship recipient enabled me to continue my studies free from worries and at the same time, I considered it to be a recognition of my performances in my studies as well as an incentive to continue to achieve the best possible performance.
Mirjam L., former Germany Scholarship recipient
Everything you need to know about the scholarship program