DEUTSCHLANDSTIPENDIUM
How Can I Become a Supporter?
Foundations, companies and individuals can get involved with the Germany Scholarship at Heidelberg University. Set an example today by supporting young talents at Heidelberg University.
Receiving a Germany Scholarship motivates our students and allows them to study with an even more intense focus and to have more time for voluntary commitment or projects. With only 1,800 €, you can offer scholarship support for an entire year. The Federal Goverment supplies the same amount. So, the impact of your donation is doubled. Also, your donation is tax-deductible. Start supporting bright minds today. There are various reasons why your support matters:
show social responsibility
expand your network
generate enthusiasm
support talent
increase the attractiveness of Metropolitan Region Rhine-Neckar as a business and industry location
As a company or foundation, you can support high-achieving students with almost no administrative effort since the selection of suitable scholarship recipients as well as the application process lie with the university. As an individual, get to know the talents of tomorrow and seize the opportunity to get in contact with other supporters of the scholarship programme and to become a part of the university network.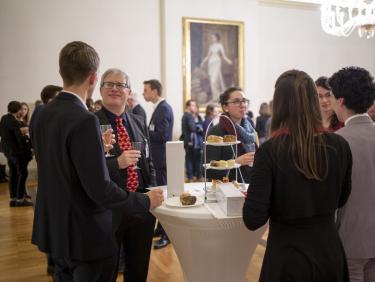 Already get involved today in the winter semester 2024 | 2025
Several hundred students have already received a Deutschlandstipendium in the last few years thanks to the support of numerous sponsors. We want to make sure that the support of students can be continued and therefore look forward to any new or continuing engagement for the next funding period in the winter semester of 2024 | 2025. Thank you very much!
Contact us now
A COMMITMENT THAT MAKES A DIFFERENCE
Getting supported with a Germany Scholarship showed me that there are also individuals in Germany showing commitment for the support of many young talents facing a double burden of studying and competitive sport. Not least thanks to the support with a Germany Scholarship, I have managed to cross over to the professionals.
Fabienne K., former Germany Scholarshop recipient and participant in the 2018 European Athletics Championships
I was really pleased about the Germany Scholarship. Receiving the scholarship and the appreciation reassured me that a successful study with a child is possible.
Luca B., former Germany Scholarship recipient
To know that the Germany Scholarship not only attaches importance to the academic performance but also to social commitment was important to me since I am engaged with a student association called Pro Bono e.V.. Thanks to the scholarship, I feel especially committed to contribute to society. Pro Bono is providing free legal advice for people in need.
Feruza D., former Germany Scholarship recipient
I WANT TO BECOME A SUPPORTER!
Support one student with only 150 € per month (1,800 per year) This amount is doubled by the Federal Government which enables the students to get supported with 300 € per month. You can choose an open scholarship or earmark it for a specific program of study or discipline. As a sponsor, you also have the opportunity to plan for the longer term and commit to years. You decide what your support should be like. Feel free to contact us.