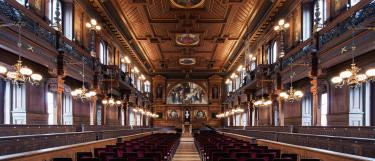 Heidelberg University has enjoyed a long tradition of donors.This is why it is important to us to help our friends and supporters turn their ideas into action.
The establishment of a foundation is an established option for a long-term commitment and a good way to express your allegiance to Ruperto Carola. It is also possible to establish such a foundation in the corporate assets of Heidelberg University. We are managing a large number of assets with varying purposes. You can set up a use foundation or a revenue foundation, for instance, and we make sure that  the donations and annual proceeds are used rightfully. At the same time, the establishment of a foundation or a foundation fund is a good option if you want to put your ideas into action since you can determine the purpose of the foundation or fund.
There are many ways to promote research and teaching at Heidelberg University. Learn more about them on the following pages.