SUPPORTING THE SPECIALISED FUNDS
Financial Aid Fund
In the course of pursuing their degree, students time and again confront financial obstacles that can threaten this goal. The Financial Aid Fund wants to alleviate this problem by offering help to students in need.
With assistance from the Financial Aid Fund, students of all nationalities facing financial difficulties such as the loss of part-time jobs due to the current coronavirus pandemic as well as the sudden absence of financial support from parents or an illness, through no fault of their own can obtain aid, easily and on short notice, so they can graduate. After having reviewed the student's individual circumstances, the amount of funding is set depending on the financial situation of the student. The aid is designed to bridge the financial gap and is awarded for a maximum of one semester.
We want to continue to support students in need and therefore need your help. Give our students some kind of security by donating, today.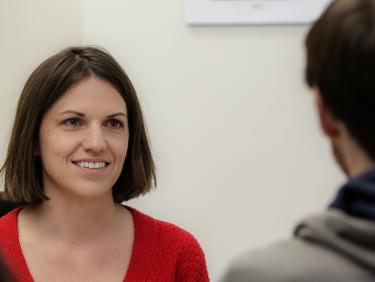 I am infinitely grateful for the help that I have received through the Financial Aid Fund. This is why I already wish to donate money to the Financial Aid Fund as soon as I start working as a teacher in order to share this kind of happiness with a person in need.
Markus J., Care and Philosophy/Ethics, teaching degree for professional grammar schools
"I will forever be grateful for this support!"
For Jyoti, Heidelberg and its university is like a second home. A financial bottleneck nearly sabotaged her studies. Donations from the Student Financial Aid Fund helped her through this temporary financial crisis.
Jyoti left her home in Nepal in 2016 to start her masters degree in molecular biosciences at Ruperto Carola and loves the city with its international flair. She never regretted her decision. Choosing Heidelberg was easy for Jyoti. "Heidelberg University is one of the best universities in Germany and among the top 50 in the world." She most appreciates the high educational standards in her degree programme. She believes she is well prepared to embark on her career. "The aid from the fund was not just a financial cushion; it was an emotional one as well. The constant worry that my savings wouldn't last until I finished would have certainly affected my studies. Thanks to the fund, I can move ahead with much less stress. I will always be grateful for that!" Her master's thesis deals with the communication between cancer cells and tumours. She would like to continue on with her doctorate in cancer immunology.
Status as of July, 2019
Your contact for the Financial Aid Fund
CONTACT PERSONS FOR SPONSORS
Division for Foundations and Assets
T: +49 6221 54-12801
F: +49 6221 54-12980
Postal address
Division for Foundations and Assets
Universität Heidelberg
Seminarstr. 2
69117 Heidelberg