Faculty of Philosophy
Medieval Studies
The Master's degree programme in Medieval studies considers Medieval aspects of various subjects, including history, European art history, Latin Medieval philology, German philology, Romance philology and Jewish studies. The degree programme takes a multidisciplinary approach to research of the European Middle Ages. Students are able to specialise across a broad, interdisciplinary range of subjects and can further their knowledge of Medieval studies and related historical methodologies.
The Middle Ages refers to the period between the fifth and fifteenth centuries, and the European cultures which existed at this time.  This field encompasses numerous other disciplines, which due to the increased importance of improved cultural understanding over the course of the previous centuries, have become evermore closely linked. This interdisciplinary approach is at the heart of Medieval studies at Heidelberg University. The department covers the cultural traditions which have been, and remain formative for the three large religions in Europe - Christianity, Judaism, Islam.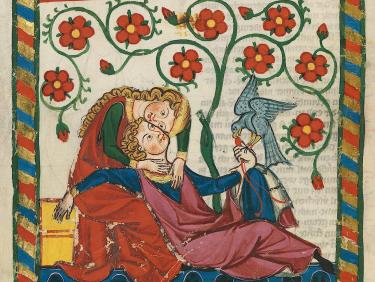 Special Features and Characteristics
The interdisciplinary structure of the Master's degree programme places great emphasis on forward-looking approaches to related disciplines. This includes the development of innovative forms of interdisciplinary thought and working methods in relation to Medieval objects and issues. Heidelberg University and the Heidelberg College for Jewish Studies collaborate to offer taught sessions in philological and cultural specialisms.  
Strong links to the research activities being undertaken by the establishments and institutes involved in the degree programme (workshops, colloquia and lecture series) enable students to develop the skills they will later require in a professional context.
The subject areas encompassed by the field of Medieval studies range from philology and cultural studies, to historical methodologies and Jewish studies. Students therefore have a unique opportunity at Heidelberg University to combine Jewish studies (Medieval) with the study of additional subject areas with a Medieval aspect. The interdisciplinary degree programme also equips students with fundamental knowledge of academic working methods, enabling them to conduct independent research in the field of Medieval studies.  
Students also profit from the participation of academic researchers from the research project 933 "Material Text Cultures. Materiality and the Presence of Written and Unwritten Societies" (Materiale Textkulturen. Materialität und Präsenz des Geschriebenen in non-typographischen Gesellschaften (SFB 933)) in the degree programme. Lectures and seminars resulting from projects conducted at the Heidelberg Center for Cultural Heritage (HCCH) also form part of the degree programme in Medieval studies.
The Master's degree programme in Medieval studies equips graduates with practical skills they will require to work independently in a range of professions, or to pursue further academic study to obtain a doctorate. Graduates can potentially enter careers in the following fields: 
universities and research institutes 
museums and exhibitions 
monument conservation 
publishing and libraries 
documentation and archiving 
journalism and specialist journalism 
academic work 
cultural institutions 
marketing, media and communication 
advisory services in politics and culture 
adult education and further education 
administration and public service 
Some of the professions listed may require graduates to complete doctoral study. The Master's degree programme is therefore designed to meet the needs of students looking to apply for doctoral study, as well as those wishing to enter employment.
What has always fascinated me about the Middle Ages is that it is possible to trace the developments and issues of European culture from today back to the period from 500 to 1500. Therefore, the Middle Ages cannot be considered a 'completed' historical period as it remains enormously relevant even today. European and intercultural references are taken very seriously in Heidelberg. We are offered a wide range of interdisciplinary electives in the Master's programme in Medieval Studies. I can only recommend the course.
Felix Timmer, 24, Medieval Studies, 1st semester Master
Further Interesting Subjects