Faculty of Philosophy
European Art History
The focus of the academic programme in European Art History is to convey fundamental knowledge that enables students to perform research within an international art perspective, including material and conceptual aspects. Courses include instruction on the history of the fine arts, architecture, applied arts, photography, film, performance art, and new media in Europe and western cultural circles from the beginning of the Middle Ages to the present day.
This comprehensive academic programme in European Art History covers all epochs and art forms in art history. It provides special opportunities for in-depth study in the areas of architectural research, medieval painting and graphics, modern architecture and visual arts, and new modern and contemporary media. Students will also gain systematic experience with conceptual tools for describing, categorising, and interpreting these objects, along with analytical methodology for assessing art works as to their origin, type, function, and effect as well as their material and conceptual aspects. The academic programme conveys highly in-depth knowledge of scientific interrelationships and methods, preparing students to perform independent research.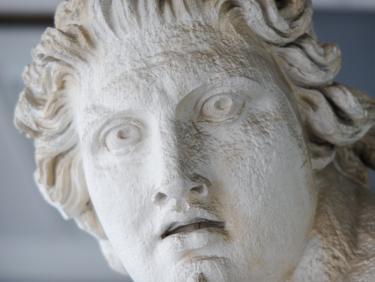 Special Features and Characteristics
A wide range of art-historical interrelationships is presented by five professors whose fields of expertise range from classical art history to global art history. A traditional area of focus is Iberian and Iberian-American art history. To allow students to obtain an overview of basic knowledge of European Art History, four preparatory courses provide a structured introduction to basic concepts. The close connection between instruction and research provides students, at an early stage of their education, with opportunities for project-oriented and research-oriented experience.
Further opportunities are provided by the close collaboration with the Institute of European Art History's Centre for European History and Cultural Studies (IEK) for courses in the areas of History, Musicology, and Religious Studies. Other collaborative partnerships exist with the Romance Studies/Italian faculty, the Interdisciplinary Centre for Scientific Computing and the Applied Computer Science faculty. Students may also attend courses at the Heidelberg University of Education and the Heidelberg College for Jewish Studies as well as at the Karlsruhe University of Arts and Design. The Institute's international contacts allow students to participate in the ERASMUS programme at European universities as well as to pursue a Master's degree programme in Art History and Museology in cooperation with the École du Louvre in Paris. Worthy of special mention are also the well-equipped Institute Library and the University Library, with its important inventory of historic materials as well as its collection: "Medieval and Modern Art History Through 1945 and a General History of Art". Relevant new literature is thus conveniently and nearly comprehensively available for students to access. An archive of art counterfeits is currently being established. In addition, the Institute holds a comprehensive collection of photographs available for teaching and study purposes.
Research at the Institute of European Art History focuses on art works and their materials and techniques, the history of art education, art theory, the history of art literature and art history, including methods and institutions, as well as opportunities for impact. The professional expertise held by the Institute's professors determines the programme's focus in both instruction and research in the areas of:  
Medieval book illustration and questions of the functionality of an image as well as medieval architectural research and archaeology. 
Architecture, Urban Development, and Architectural Theory from the Classical Period through the present day 
History of Art Literature, Art Theory, and Art History 
Photography and Film  
Art and Its Reception in Literature and the Media 
In addition, the Institute is participating in a sub-project on the lettering and characters found on medieval art works as part of the interdisciplinary SFB 933: "Material Text Cultures. Materiality and Presence of Writing in Non-Typographic Societies." 
A wide range of career opportunities is available to art historians. Traditional professions include museum and cultural management, monument conservation, university teaching, research, adult education and tourism, journalism (press and publications work, radio, television, online services), positions in art libraries, the insurance industry, as art and antiques dealers, caretakers for private collections, or as art consultants.
What characterises Europe? Basically, centuries of culture. History of Art is an integral component of cultural history and as colourful and varied as Europe's different cultures. Heidelberg's University Library has the largest art-historical inventory and is located in the beautiful Old Town.
Anne-Sophie Treiber, 23, European Art History, 10th semester Bachelor