Faculty of Philosophy
Byzantine Archaeology and Art History
Students of Byzantine Archaeology and Art History consider research relating to the material legacies of the late Antique and Byzantine period.
The late Antique and early Byzantine period covers the era from 3 AD to the fall of Constantinople in 1453 AD. Elements of the academic course which relate to the late Antique period focus on all centres and provinces within the Roman Empire. Where course elements relate to the Byzantine Empire during the Middle ages, the Eastern Mediterranean and the capital Constantinople are the main areas considered. 
Degree programmes in Byzantine Archaeology and Art History cover the following areas: 
Architecture 
Town planning and topography 
Structural art (sculpture and plastic, painting, mosaic) 
Small artworks, handcrafts, objects for use 
Inscriptions 
Coins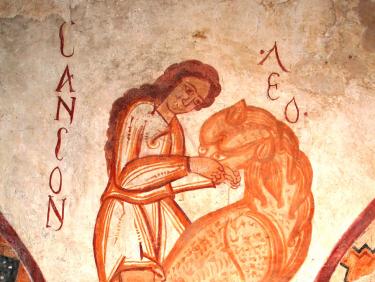 Special Features and Characteristics
The degree programme has strong interdisciplinary links to other archaeological disciplines, as well as European art history, church history and Medieval history.
Students are involved in practical archaeological work early on in the degree programme. They take part in an archaeological field trip, a practical exercise in a museum, or in an archaeological dig, and exercises in measuring and drawing.
The research focus of the subject is dictated by the relevant teaching staff. Currently, research is primarily focussed on the architecture and settlement history of the Middle East, Greece and Asia Minor.
Graduates of the degree programme in Byzantine Archaeology and Art History may pursue a career in areas such as: 
universities and research institutes 
museums 
educational institutions
I find the subject Byzantine Archaeology and Art History fascinating because it is so versatile and there is so much left to study and investigate. We study a culture that lasted for more than 1,000 years and also influenced European art history. Heidelberg is one of the few German universities where you can study Byzantine Archaeology and Art History.
Nina Möller, 22, Byzantine Archaeology and Art History, 7th semester Bachelor