Faculty of Behavioural and Cultural Studies
Anthropology
The degree programme in Anthropology centres around the comparative study of societies and cultures. The aim of the programme is to understand and be able to describe commonalities and differences in the ways in which humans live and think.
As a descriptive, theoretically-oriented and comparative cultural and social study programme, the Anthropology degree programme conveys an understanding of dynamic cultural and societal processes and contexts for actions, particularly from the perspective of the persons involved. Anthropology thus takes a comprehensive outlook and a perspective in a targeted fashion onto complex interrelationships and mutual impact between different subsets of cultural dynamics and social practices. Intercultural comparisons and the study of transcultural processes play a particularly important role in this. The regional focus ranges from South Asia to Southeast Asia to Oceania, while the thematic focus covers ritual and performance research to anthropological medicine, from anthropological media to political ecology (environment), and from cultural identity to intercultural ethics. Other areas of focus include social structures, economy and barter, migration and urbanisation, as well as transculturalism. The degree programme is characterised by long-term local field research, combined with a participatory examination of daily life.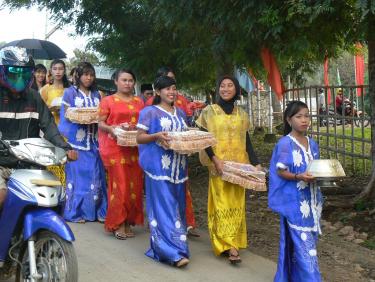 Special Features and Characteristics
Students in the Heidelberg University Anthropology programme benefit from the personal support provided by their tutors and from the comprehensive course offering. In addition to the courses offered by the Institute of Anthropology, students may attend courses offered by the Anthropology department of the South Asia Institute as well as those offered by the Department for Visual and Media Anthropology at the Karl Jaspers Centre for Transcultural Research.  
The Institute of Anthropology also maintains close relationships with partner universities abroad, which, in conjunction with existing exchange programmes, provide students with an opportunity to study abroad for one or two semesters. Along with the Universitas Gadjah Mada in Yogyakarta (Indonesia), these exchange programmes include in particular the currently-existing partnerships with thirteen universities that are participants in the ERASMUS program.  
Students also have numerous opportunities to specialise in additional languages, such as Bahasa Indonesia, Thai, Hindi, or the wide range of languages offered at the Language Centre and the Centre for Asian and Transcultural Studies (CATS).   
In addition, in their search for internship positions, students can take advantage of the services offered by the Internship Office (Praktikumsbüro) at the Institute of Anthropology as well as the partnership with the Heidelberg Ethnological Museum.
At Heidelberg University, Anthropology studies may be pursued at three different locations. Along with the Institute of Anthropology, these include the Department of Anthropology at the South Asia Institute (SAI) as well as the Professorship for Visual and Media Anthropology at the Heidelberg Centre for Transcultural Studies (HCTS). Each of these three locations is also part of the new interdisciplinary Centre for Asian and Transcultural Studies (CATS), whose library and media lab are available to students.
A wide range of professional options is available to anthropologists. Along with traditional positions in science, museology, and independent exhibitions, graduates of the Anthropology degree programme find careers:  
in international organisations 
in development collaboration as well as in peace-keeping and conflict research 
in organisational and market research as well as in user-oriented product design 
in Culture Management 
in the media and in publishing houses 
in intercultural training and adult education  
in cultural mediation with migrants and refugees as well as in the health system
Understanding other cultures and mentalities is intellectually as well as personally enriching.
Luka Hummel, 24, Anthropology, 8th semester Bachelor