Faculty of Philosophy
Transcultural Studies
Students in the Master's degree programme Transcultural Studies learn about cultural exchange processes, transformations and interweavings between, or in, Asia and Europe. The transregional approach applied in Transcultural Studies questions traditional ideas about cultures in ethnically contained, linguistically homogenous and territorially limited areas.
The focus of Transcultural Studies is on interweavings and transformations of Asian and European cultures in history and today. In this context, Eurocentric narratives related to these processes are critically reviewed. During their first semester, students in the Master's programme specialise in one of the three special fields of the academic programme: "Knowledge, Belief and Religion", "Society, Economy and Governance" or "Visual, Media and Material Culture". The focus of the further periods of studies is determined by this choice.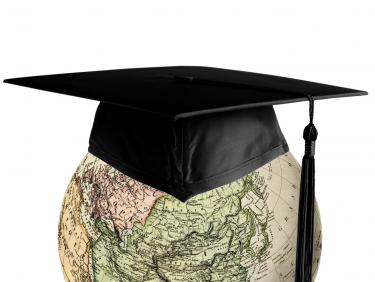 Special Features and Characteristics
The English-language, research-oriented degree programme is interdisciplinary in nature and unites specialists from a variety of regional and disciplinary special fields in the humanities, social sciences and cultural studies. In terms of geography, Transcultural Studies focusses both on Europe as well as on Asia, and in particular on East (china, Japan, Korea) and South Asia (India). The academic programme imparts theories and methods used on the humanities and social sciences in order to analyse cultural exchange processes within these areas. The thematically wide-ranging seminars offer many possibilities in this respect. 
In the context of mobility schemes, students can spend one or two semesters at a partner university. In addition to study abroad options offered by ERASMUS, there are also agreements with the universities of Kyoto, Tokyo, Seoul, Yale and further Chinese and Indian partners. Furthermore, students in the Transcultural Studies programme can access the cooperations of other Heidelberg research institutes with South or East Asian special fields.
Thanks to the high degree of interdisciplinary expertise in the various disciplines of the humanities, cultural studies and social sciences, the Heidelberg Centre for Transcultural Studies (HCTS) boasts a broad range of research topics related to transcultural approaches and interweavings between Asia and Europe. These include, among others, topics associated with  
Buddhism studies (focus on the transcultural dynamics of a global religion in history and today) 
cultural, economic and social history (cultural dimensions of economic behaviour, effect of economic conditions on the process of cultural (trans-)formation) 
global art history (beyond the national paradigm associated with the analysis of visual practices) 
history of ideas (with a special focus on knowledge creation and dissemination in a transcultural context) 
visual and media ethnology (including hierarchies and asymmetries in the dissemination of media representations) 
urban research 
migration research 
museum studies etc. 
The degree programme Transcultural Studies is very research-oriented. Therefore it predominantly prepares graduates for careers in international scientific organisations. As a result, many graduates choose to enrol in doctorate programmes upon graduation. They also often work in international NGOs, foundations, in the arts and culture industry as well as in marketing and HR at international businesses.
Every day we become more connected, and every day it becomes more apparent that our societies are built not individually, but only function through their relations and interactions with each other. Understanding how all this works is something that impassions me – and studying Transcultural Studies is exactly the right place to go if you have similar interests.
Martin Morales, 25, Master Transcultural Studies
I chose the Master's degree programme Transcultural Studies because I would like to build on what I learned in my undergraduate studies and develop competencies in interdisciplinary research. I think transcultural approaches offer many inspiring possibilities and encourage dealing critically with established boundaries.
Hikari Bun, 26, Transcultural Studies