Faculty of Modern Languages
Comparative German Studies
The focus of Comparative German Studies is the comparative and intercultural examination of German language, literature, and culture.
The degree programme provides both German and international students with a comprehensive education in German linguistics and/or literature. Teaching and research are therefore particularly focussed on the comparative aspects of language and literature as well as intercultural factors. Subject-specific core courses are supplemented with a selection of alternative practice-oriented applied electives: Didactics of German as a Foreign or Second Language and Intercultural Communication.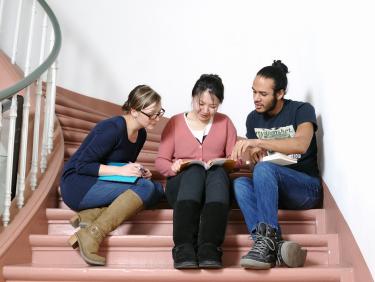 Special Features and Characteristics
The Institute for German as a Foreign Language Philology considers itself to be an institute with a special cultural-political mandate: it provides both German and international students who wish to prepare for careers at either the national or international level with an education in German language and culture. The study programme is therefore distinguished by a high degree of internationalism. 
Study abroad is possible at ERASMUS partner universities in Turku, Lyon, Thessaloniki, UCL London, Sassari, Macerata, Nijmegen, Bergen, Lund, Murcia, Barcelona, Ankara, Budapest, and Pécs, as well as at the 4EU+- universities in Copenhagen, Paris-Sorbonne, Milan, Warsaw and Prague.
In addition, the IDF (Institute of German as a Foreign Language Philology) offers its own teaching programme for Erasmus students at Heidelberg University in which advanced students of the IDF can gain first teaching experiences in the field of German as a foreign language.
The Comparative German Studies programme maintains close links to the various research projects housed at the Institute, providing students an opportunity to become acquainted with the research activities conducted at the Institute.
The focus of linguistic research is on the areas of cognitive language typology, comparative psycholinguistics, and second language acquisition. Research is approached from an interdisciplinary perspective. Collaborative research initiatives exist with disciplines such as psychology, medicine, information sciences, and pedagogy. 
Current projects centre on the following topics:  
Language-typology research on the expression of spatial and temporal concepts as well as information structuring  
Event cognition and verbal expression from a comparative linguistics perspective 
Language processing, using experimental methods  
Language and aging (collaboration with NAR) 
Second-language acquisition and development of language support concepts 
Literary research focusses on relevant intercultural and comparative aspects as well as socio-historical, media-historical, and cultural factors.  
Current research is focused on:  
International children's and youth literature 
(Entertainment) theatre around 1800 
German-French and German-Italian literary relationships  
Literary history and the history of mentalities 
German literature since 1945 in an international context 
reality-based narrative
Career options include (teaching) positions in the area of German as a Foreign/Second Language as well as opportunities for instructors of German culture in other countries and in Adult Education. Graduates are also qualified for positions in internationally-active corporations and organisations as well as – with a Master's degree – for an academic career in the areas of German linguistics and literature.
I study Comparative German Studies because I am very interested by both language and culture. I first discovered my curiosity for and interest in Germany during my childhood - funnily enough thanks to my love of football.
Yuan Liu, 23, Comparative German studies, 2nd semester Master
Further Interesting Subjects