Faculty of Behavioural and Cultural Studies
Health and Society in South Asia
The degree programme in Health and Society in South Asia is a combination of Medical Anthropology and regional studies, with a focus on South Asia. Medical Anthropology encompasses the study of health and well-being from a social sciences perspective. Its focus is on healing systems, not primarily in terms of medical theories or health policies, but rather, on how these function within a concrete socio-cultural context.
The Master of Arts degree programme in Health and Society in South Asia (MAHASSA) is a two-year degree that focuses on Medical Anthropology and South Asian Studies. It is integrated within and taught at Heidelberg University's South Asia Institute, one of the world's leading centers for interdisciplinary research and teaching on South Asia. This allows students to integrate South Asian languages, geography, politics, etc. into their curriculum. Students are trained in the theory and methods of Medical Anthropology while also attending courses in South Asian Studies and South Asian languages, allowing them to obtain broader knowledge of the region.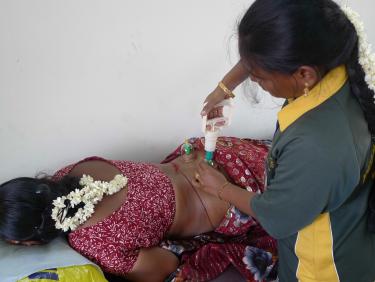 Special Features and Characteristics
With its seven departments (Anthropology, Cultural and Religious History, Development Economics, Geography, Modern History, New Languages and Literatures, and Political Science), its regional offices in Colombo, Delhi, and Kathmandu, and its library, containing an impressive collection of more than 260,000 titles, the South Asia Institute (SAI) offers students the opportunity to cultivate regional expertise in a leading institution that is home to a vibrant research environment.
Collaboration with the Institute of Anthropology, the Karl Jaspers Centre for Advanced Transcultural Studies, and the Institute of Public Health, permits students to attend courses on a broad variety of health-related topics, from traditional systems of South Asian medicine to health and environment, or science and technology studies. Students also attend the Medical Anthropology Forum – a lecture series that includes presentations by both renowned and junior scholars from Medical Anthropology and related fields – and are encouraged to attend a variety of lecture series hosted at other SAI departments and institutes.
The program attracts international students, who come  together to work in an interdisciplinary environment, where they benefit not only from each other's academic  experience, but also from their diverse cultural backgrounds.
The Department of Anthropology at the South Asia Institute specialises in Medical Anthropology, with members and PhD students conducting research on ritual healing, folk medicine, Islamic medicine, health and environment, Ayurveda, Unani Medicine, gender and health, women's reproductive health, and other topics.
Current research projects, for example, examine the export of psychological and psychiatric therapies into contexts where they are incongruent or unknown in local ideas or practices – including the pathologisation of therapeutic forms of trance and possession among South Asian migrants in the United Kingdom (Prof. Dr.William S. Sax), with "desired children" in Germany and India as context leading to prenatal genetic diagnostics and selected abortions (Dr. Sheela Saravanan), and with the relationship between evidence and eminence among practitioners of Unani (Graeco-Islamic) medicine in India (Kira Schmidt Stiedenroth).
During the third and fourth semesters, students prepare and conduct their own research projects, and graduates whose projects have earned excellent grades are encouraged to publish their findings.
The Master's degree programme is designed for students who wish to pursue a health-related career in South Asia, as well as for those who plan to go on to doctoral studies in Anthropology or related disciplines. Graduates of the programme find professional positions in such areas as:
The development and humanitarian sectors, especially, though not exclusively, in South Asian countries
Medicine-related fields (e.g. as hospital director, consultant for NGOs)
PhD studies in Anthropology or Public Health
Academic careers in Anthropology and related disciplines
Today, medicine is partially governed by economic aspects and, in the West, is often focussed on measurable values. This is not the case for traditional Far Eastern medicine. I want to study and understand the different knowledge systems as well as their cultural contexts and environmental conditions.
Bischal Diganta, 24, Health and Society in South Asia, 1st semester Master
Further Interesting Subjects