Faculty of Modern Languages
Conference Interpreting
Students of Conference Interpreting study the theory and practice of communicating in spoken language at specialist conferences, in political contexts and in the media.
Students acquire the practical skills required to work as a professional simultaneous and consecutive interpreter of challenging and complex spoken language. Skills include a high level of proficiency in each of the student's working languages, as well as specific cognitive abilities such as strategic listening, and the efficient use of attention and memory. In addition to this, students gain particular instrumental skills (language development, noting taking techniques, terminological preparation).
The practical elements of the course are consolidated and developed as students gain interpretation skills. Interpreting studies is also acknowledged as being of a highly interdisciplinary nature, having strong links to translation studies, linguistics, cultural studies and psychology.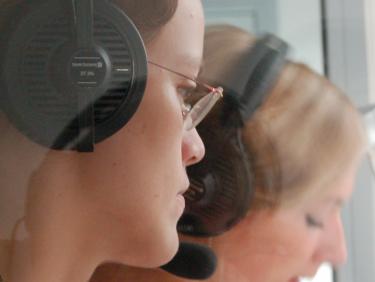 Special Features and Characteristics
Heidelberg University is unique in offering students the opportunity to complete a degree programme in Conference Interpreting in which the practice classes in consecutive and simultaneous interpreting are taught exclusively by lecturers who have proven significant experience of working as interpreters. As such, they are generally members of recognised German and International interpreting associations.
The department also collaborates with the institutions of the European Union, for which many of the lecturers work as freelance, accredited interpreters (including as "Key Trainers" for the European Commission). As a result, the department arranges regular visits to the interpreting service of the EU. The department also cooperates with a number of universities around the world, and can therefore offer students the opportunity to spend periods of time abroad as part of the ERASMUS programme for example.
Following the successful completion of the final examination, students may select a supplementary subject, thereby adding a second C-language to their standard language profile (A- , B- and C-language).
During the degree programme, students complete a placement within the Institute. This is part of a week-long specialist conference, which the students organise themselves and which is open to the public.
At the end of students' final semester, they may attend a so-called "professionalisation seminar". This is intended to help students enter the job market, and considers the particular challenges and needs of conference interpreters.
As part of the lecture series, "Current Issues in Linguistics and Translation Studies", students have initial contact with prominent national and international representatives of different disciplines.
In addition to interpreting studies, the Institute of Translation and Interpreting (Institut für Übersetzen und Dolmetschen, IÜD) offers students access to a range of diverse fields of research. Students are therefore able to develop their own specialism and can acquire knowledge from neighbouring fields including translation studies, cultural studies, linguistics, lexicology, terminology, psycholinguistics and cognition.
As part of Heidelberg University, the Institute of Translation and Interpreting gives the students the opportunity to collaborate with other institutions as part of research projects. Students may for example, participate in collaborative projects with the Centre for East Asian Studies, the Department of Romance Studies, the Department of German Studies, the Institute for German as a Foreign Language, and the Department of Computational Linguistics.
Graduates of the Master's degree programme in Conference Interpreting are primarily employed as interpreters at meetings and conferences of a highly technical or specialist nature. Such events include technical and academic conferences, international events addressing economic or political issues, court proceedings and broadcasts.
Graduates might work on a freelance basis, or pursue long-term employment. Important employers include international institutions (EU, UN, ECB etc.), state ministries, international corporations, congress organisers and the media.
Graduates might alternatively pursue a career in interpreting studies to take on a teaching role. Such posts are generally found in universities.
I study conference Interpreting because I have always been interested in languages and communication, because I wanted to improve my German and use foreign languages in my daily work.
Charlotte Hiertz, 23, Conference Interpreting, 1st semester Master