Faculty of Modern Languages
English Studies
English studies is dedicated to the investigation of the English language, literature and culture in their various present-day forms and in their historical development.
Traditionally, Britain and North America are of central significance both in teaching and research, but there are also a number of classes on other varieties of the language, other literatures in English and other English-speaking cultures. The most important areas in the English studies degree programmes (linguistics, literary studies and cultural studies) are taught with varying prioritisations in addition to practical language education.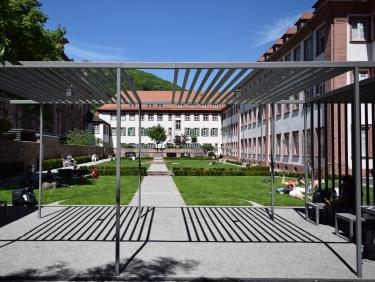 Special Features and Characteristics
Becoming familiar with British or American cultures and lifestyles in the target country is an essential addition to a degree programme in English studies. As a result, students should attempt to spend one or two semesters in an English-speaking country. Naturally, the linguistic benefit is self-evident. If you want to go abroad for a certain period of time, there are several ways to do this quite cheaply through, e.g., the German Federal Training Assistance Act (BAföG) for study-abroad periods, Erasmus initiatives, the Heidelberg Exchange Program (with more than 60 partner universities in the USA and Canada), the German Academic Exchange Service (DAAD), the Fulbright Commission, or as an assistant teacher in an English-speaking country. 
The Department of English is proud of its communal spirit, the personal atmosphere, the inspiring intellectual environment and the richness of cultural events (such as the award-winning choir and theatre group).
The top rankings consistently achieved by the Department of English Studies in Heidelberg in recent years are primarily a result of the Department's research strengths. With 5 chairs and as many assistants, extraordinary professorships and numerous research assistants, research and teaching ideas are constantly exchanged. This is reflected, above all, by an above-average number of doctorates.  
Research focuses in Literary Studies and Cultural Studies at the Department of English Studies include: 
Hypertexts and hybrid forms of literature 
Novels, drama, and poetry from the British Isles 
Anglophone and Anglo-Irish literature 
Issues in literary and cultural studies (gender studies, narratology etc.) 
Contemporary American literature 
American transcendentalism 
Cultural theory 
The main research interests in English linguistics are: 
Cognitive metaphors 
Computer-mediated communication 
Stylistics 
Corpus linguistics 
(Historical) pragmatics
Graduates might pursue a career in any of the following: 
as secondary school teachers (Gymnasium) 
in the media 
in communications and translation agencies 
in training and consulting institutions 
in tourism 
at universities and research institutes
English as a lingua franca opens the door to foreign cultures and enables contact to other people. And the academic programme is very well-rounded. In addition, I spent an Erasmus+ year in Manchester, England. An amazing experience!
Franca von Petersdorff-Campen, 24, English Studies, 7th semester Teaching degree