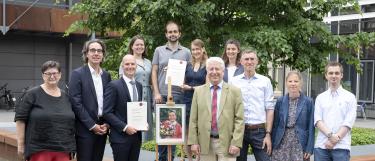 Highly endowed Hella Bühler Prize awarded
Sergio P. Acebrón and Lukas Bunse were recognised for their outstanding work in cancer research
The prize, endowed with 100,000 euros, was presented to the two researchers at an award ceremony in the Marsilius-Arkaden on 17 May 2022. The award is given out by Heidelberg University and is aimed at young researchers who have already drawn attention to themselves through outstanding scientific quality in cancer research. The prize money is intended to support them in continuing and deepening their promising research work.
Dr. Sergio P. Acebrón (2021 award winner) researches signalling processes at the Centre for Organismal Studies (COS) at Heidelberg University. His focus is on possible defects in these processes that can lead to dysregulation of stem cells and thus to cancer. The address in honor of Dr. Acebrón was given by Prof. Dr Jan Lohmann, Executive Director of the COS.
Dr Lukas Bunse (2019 award winner) is a neurologist and expert in the field of brain tumour immunology. With his team, he researches brain tumour-typical immune resistance mechanisms. Since 2019, Dr Bunse has been working at the Neurological Clinic of the University Hospital Mannheim. Prof. Dr Michael Platten, Director of the Neurological Clinic of the University Hospital Mannheim, gave the address in honor of the 2019 award winner.
The award was presented by the Rector of Heidelberg University, Prof. Dr Dr h.c. Bernhard Eitel. Both scientists gave insights into their work and explained how they have used or will use the prize money for their research. In summer temperatures, the award ceremony was followed by the possibilty of exchange between the award winners and the guests present.
The Hella Bühler Prize goes back to the dentist Dr Hella Bühler who bequeathed her fortune to the University with the stipulation that a prize in cancer research should be awarded from the proceeds. Since 2004, the research prize named after her has supported young Heidelberg researchers and is one of the most highly endowed awards in the field of cancer research in Germany.
IMPRESSIONS OF THE AWARD CEREMONY