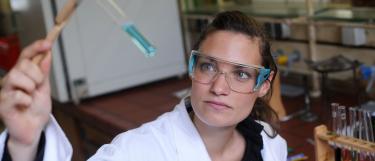 The Scholarship Programme
With the Hans-Peter Wild Talent Scholarships, Heidelberg University supports talented and motivated students in a MINT subject (mathematics, informatics, natural sciences, technology) from Germany and abroad as of their very first semester. The scholarship is endowed with 1,000 euros per month and is intended to support you in the ideal case, through completion of your degree. The scholarships were awarded for the first time in the winter semester 2021 | 2022.
YOUR BENEFITS AT A GLANCE
Study without financial worries
Your talents fully unfold right from the beginning
Become part of a network of national and international students
Benefit from interaction with other scholarship recipients and spark ideas for interesting projects
Entrepreneur Hans-Peter Wild, who studied law at Heidelberg University, has been a supporter of his alma mater for many years. His decades of loyalty is once again evident in the support of the Hans-Peter Wild Talent Scholarships. With the scholarship programme, Dr Wild would like to help to raise enthusiasm among the brightest minds in the field of mathematics, informatics, the natural sciences, or technology from Germany and abroad to study at Heidelberg University and to enable them to enjoy the best conditions right from the start.
"Whoever wants to make things happen, needs confidence in their own abilities but also the right circumstances. Helping students and researchers of Heidelberg University to succeed in their endeavours is extremely important to me. That is why founding the scholarship programme at Heidelberg University was a heartfelt wish."
Dr Hans-Peter Wild, alumnus and honorary senator of Heidelberg University
STUDYING AT HEIDELBERG UNIVERSITY
You are planning to study a MINT subject at Heidelberg University? Learn more about your possible future place for your studies, here.
Heidelberg combines the best elements of a small romantic town and of a vibrant university city: small distances and a beautiful scenery combined with high quality research and an international student community.
Ioannis S., alumnus
About Heidelberg University
Located in one of Germany's most beautiful cities, Heidelberg University is ranked internationally among the country's best. Over 25,000 students from all over the world enjoy its optimal learning environment in a wide variety of subjects and disciplines. Particularly in technology, the natural sciences, mathematics, and informatics, the numerous cooperations both inside and outside the university give you the opportunity to gain deeper insights into your chosen field and beyond. By its tradition, Heidelberg University is an innovative, cosmopolitan learning and research environment that encourages interdisciplinary exchange and the international networking of its students. The university's good reputation in Germany and the world is also underlined by its numerous top positions in important international rankings, such as the Academic Ranking of World Universities, the QS World University Ranking and the Times Higher Education Ranking.
Study a MINT subject at Heidelberg University
Heidelberg University offers you a wide range of subjects in the MINT field. Whether mathematics, chemistry, biology or computer science – at Heidelberg University, you have the opportunity to deepen the knowledge you have already acquired at school in your favourite subject.
Are you fascinated by the combination of different scientific disciplines? Then Heidelberg University is also the right place for you. Interdisciplinary courses such as biochemistry or molecular biotechnology also offer you the ideal prerequisites for a career in a scientific environment.
Did you know that
around one third of all students at Heidelberg University study a MINT subject?
Heidelberg University is among the top three German universities?
Heidelberg University has 27 partnerships with universities worldwide?
CAMPUS TOUR OF HEIDELBERG UNIVERSITY