Medical Faculty Mannheim
Translational Medical Research
Translational Medical Research considers research conducted at the frontiers between the bench (lab-based experiments), the bedside (clinical research and patient management) and the healthcare system (broad implementation and health economics) with the aim of improving the prevention, diagnosis and treatment of disease. Innovation, entrepreneurship and commercialisation play a key role in effective Translational Medical Research.
The Master's degree programme in Translational Medical Research (TMR) enables students to bridge the gap between research conducted in the field of life sciences, and the clinical application of findings. This dynamic is considered to be a two-way reiterative process that aims to create new approaches for the diagnosis and therapy of disease. Students are also taught how entrepreneurship and innovation contribute to effective translation of research into practice. The Master's degree programme in Translational Medical Research therefore provides an ideal foundation for a PhD or a career in academia.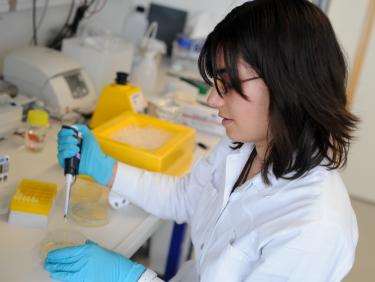 Special Features and Characteristics
The Master's degree programme in Translational Medical Research involves a mixture of theoretical and practical teaching, including lectures, lab courses, workshops and self-study assignments. The course can be studied by itself, or as part of the International Master in Innovative Medicine (IMIM), an Erasmus Mundus Joint Master Degree Programme supported by the EU and the European Institute of Technology Health section (EIT Health). Local and international connections mean that the course is informed by leading institutions in the fields of research, education and industry, and ensure that students are part of a diverse, globally engaged medical research community. Cooperating institutions in the Rhine-Neckar region include the Central Institute of Mental Health (Zentrales Institut für Seelische Gesundheit, ZI) in Mannheim, the German Cancer Research Center (Deutsches Krebsforschungszentrum, DKFZ) and the National Center for Tumor Diseases (Nationales Zentrum für Tumorerkrankungen, NCT) in Heidelberg, as well as the Karlsruhe Institute of Technology (KIT). International cooperation partners include Uppsala Universitet (Sweden), Rijksuniversiteit Groningen (the Netherlands), Universidade de Sao Paulo (Brazil), Pontificia Universidad Catolica de Chile (Chile), Universidad de Antioquia (Colombia), Universidad Nacional Autonoma de Mexico (Mexico) and Anhui Medical University (China). The focus on entrepreneurship and innovation means that the programme also benefits from collaboration with a wide range of partners in industry. 
Rather than completing their master's theses in Mannheim, students might also opt to complete this part of their course at other universities, research institutes and commercial enterprises in Germany or abroad.
Translational Medical Research is practiced in a multitude of institutes in Mannheim and Heidelberg and in the Rhine-Neckar region more widely. The research conducted at the Medical Campus in Mannheim traditionally focusses on oncology, vascular medicine, neurobiology and pain research, as well as medical technology. The Heinrich Lanz Centre enables links to be made to clinical studies, while the Fraunhofer IPA combines engineering and automation with medical diagnosis and therapy. In addition, the Central Institute of Mental Health (ZI) covers a broad spectrum of research in the field of neuroscience. More widely, Heidelberg boasts a variety of research institutes such as the National Center for Tumor Diseases (Nationales Zentrum für Tumorerkrankungen, NCT), the German Cancer Research Centre (Deutsches Krebsforschungszentrum, DKFZ), the Max Planck Institute for Medical Research, the Medical Faculty Heidelberg, the Centre for Molecular Biology Heidelberg (Zentrum für Molekularbiologie Heidelberg, ZMBH) and the European Molecular Biology Laboratory (EMBL). 
Numerous international research organisations have recognised the importance of translational medical research, and this has been repeatedly emphasised by national and international organisations such as the German Research Foundation (Deutsche Forschungsgemeinschaft, DFG), the European Union, and the National Institutes of Health (NIH), USA. 
 
Graduates of the Master's degree programme in Translational Medical Research will therefore have good career prospects in areas including: 
basic molecular and medical research centres 
interdisciplinary translational Comprehensive Cancer Centres 
clinical study centres and teaching hospitals 
biotech and pharmaceutical industries 
their own start-up companies
As a doctor with aspirations to work in clinical research, I chose the translational medical research programme at Heidelberg University due to its global renown in medical research.
Ana Sofía Ramírez García Luna, 26, Translational Medical Research, 2nd semester Master
Further Interesting Subjects