Medical Faculty Mannheim
Medicine (study location Mannheim)
Teaching in the degree programme in Mannheim (Mannheimer Modellstudiengang, MaReCuM) is organised into a series of integrated modules. The traditional boundaries between specialist subject areas are overridden, resulting in a focus on topics, organs and specific illnesses or conditions. This is coupled with an emphasis on using clinical research to inform basic research and teaching.
The degree programme in Medicine lasts for a minimum of six years and three months and consists in three training phases:  
Preclinical study 
Clinical study 
Practice year  
At the end of the degree programme, students complete the state examination and so become licenced to practice as a medical doctor. Graduates can specialise after completion of the degree programme by continuing to study whilst they work.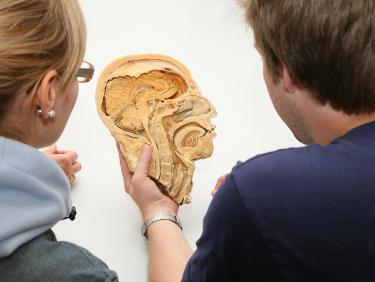 Special Features and Characteristics
Heidelberg University has two medical faculties; one in Heidelberg, and one in Mannheim. The degree programme in Mannheim (Mannheimer Modellstudiengang, MaReCuM) provides students with a course which is easy to navigate and modularized. The programme is unparalleled in preparing students to practice as a medical doctor, or undertake research or teaching in the field. 
Particular characteristics of the course:  
Students are very well prepared for examinations, for state examinations and for the demands of medical practice 
Students are supported throughout their learning by fully engaged lecturers who are highly qualified in their subjects and in didactics, and by learning coordinators 
The interdisciplinary nature of the course aids students' learning as the coordination of subjects facilitates understanding of complex content 
Modern approaches to learning and tutor support mean the content is frequently repeated and appropriated by students 
Each semester, teaching is supported by communications training and practice classes during which students practice carrying out medical investigation and procedures 
E-learning programmes, digital databases and instructional videos are provided for independent study 
Examinations are of a high quality 
Teaching promotes effective learning within familiar seminar classes and small groups 
The degree programme offers flexibility and opportunities to develop areas of specialism according to students' interests 
Students of medicine in Mannheim generally complete the course within the standard period of study 
There is a comprehensive, structured range of elective courses, and numerous opportunities for students to participate in internal and external research projects 
There is a number of opportunities for, as well as advice on completing a period of study or work abroad 
Research at the Medical Faculty Mannheim is characterised by a strong link between the laboratory and the patient. Findings from clinical studies are quickly implemented in practice, and research consistently supports practice, modern teaching methods, and targeted investment in the next generation of medical researchers.  
The Faculty has four established fields of research: 
Medical technology 
Oncology 
Translational neurology 
Vascular biology and medicine
Graduates of Medicine might pursue employment in a number of different fields: Medical roles generally require an acute sense of responsibility, physical and psychological stability, the willingness to work long hours and engage in ongoing professional training. 
The major areas of employment for doctors are 
clinics, medical practices and centres  
medical research and teaching 
further areas of employment 
public health or administration 
medical technology / biomedical technologies / medical physics 
medical informatics 
scientific or medical journalism / online services 
industry 
I study medicine because it is the ideal combination of natural sciences and a future career that will allow me to work with people, and to support and help them in moments of need.
Gwendolyn Elwardt, 20, Medicine (Mannheim), 1st semester State Examination
Newly admitted Heidelberg University students with foreign school-leaving certificates and admission have the opportunity to attend a four-week preparatory course in September to prepare for their studies.
Further Interesting Subjects