Medical Faculty Mannheim
Biomedical Engineering
Biomedical Engineering is a broad subject area, incorporating a combination of mathematics, physics, engineering, biology and medicine to answer health-science-related questions, for diagnostics, and for therapeutics.
The M.Sc. programme in Biomedical Engineering is an interdisciplinary programme open to graduates of a relevant Bachelor's degree programme. It provides students with a broad background in physics, computing, and mathematics. The curriculum focuses on biomedical research, with a strong emphasis on computer science. This reflects the increasing demand in this field for IT skills paired with specialised knowledge of biomedical devices and their use.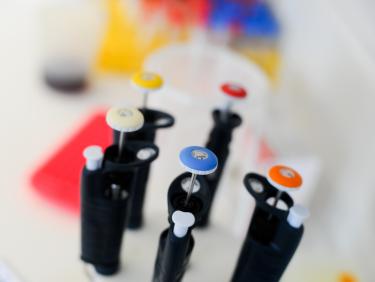 Special Features and Characteristics
The M.Sc. degree programme in Biomedical Engineering is closely networked, both within Germany and internationally, with leading research and educational  institutions for radiotherapy and medical imaging. These institutional and collaborative partnerships have led to the development of a globally-active network of  science and engineering experts.
The eXtreme REsolution microscopy Lab at the Institute of Molecular Biology in Mainz is a renowned German research centre focused on the development and application of nanoscopic fluorescence microscopy techniques
The Dana-Farber Cancer Institute at the Brigham and Women's Hospital and the Massachusetts General Hospital Cancer Center of the Harvard Medical School are ranked among the leading cancer research and treatment centres in the U.S.
The Jiao Tong University in Shanghai is one of China's most prominent technical universities; it has achieved impressive results in the areas of engineering and biomedical science
Biomedical Engineering is an interdisciplinary research field that provides a comprehensive view of diagnostic and therapeutic techniques, with an emphasis on medical imaging and radiotherapy. The M.Sc. in Biomedical Engineering is offered through the Department of Radiotherapy and Radiation Oncology (including Experimental Radiation Oncology) and Computer-Assisted Clinical Medicine.
Graduates enjoy outstanding career prospects in the health care and life science sectors, e.g. hospitals, research organisations, and the medical technology industry (manufacturers of biomedical devices/imaging systems, health-care software companies, the pharmaceutical industry, etc.).
Successful completion of the degree programme may also qualify graduates for further certification as state radiation protection commissioners (dependent upon the specific country). In Germany, for example, it is possible to become  certified as a medical physics expert after completion of two additional years of supervised practical work within a qualified radiation therapy department and successful completion of an additional examination, as specified in the German Radiation Protection Ordinance.
I study biomedical engineering because my Bachelor's degree is from the same field. Why did I choose Heidelberg University? Because it is a very renowned university in the area of medical technology.
Syed Asad Ali Naqvi, 25, Biomedical Engineering, 3rd semester Master