Faculty of Engineering Sciences
Molecular Biotechnology
The degree programme in Molecular Biotechnology offers students a modern, interdisciplinary education in which the primary areas of focus are substance research, bioinformatics, and biophysical chemistry.
What types of molecular changes result in disease, and how can these changes be influenced? To currently be able to answer such questions, it is critical not only to be familiar with biochemical and cell biology techniques, but also to have a solid understanding of chemical and pharmacological fundamentals, physical measurement methods, and bioinformatics. The foundation of the degree programme is the breadth of the natural science education it provides as well as its emphasis on research. Particular importance is placed on promoting students' individual areas of interest, allowing students to conduct their own research projects even during their Bachelor's degree studies, while providing Master's students with an international flexibility that can be put to advantage in pursuit of their own research foci.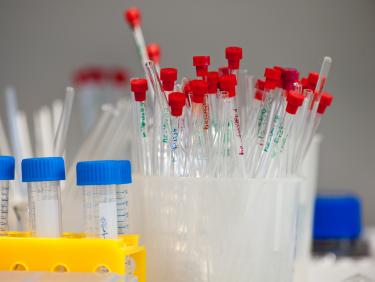 Special Features and Characteristics
The degree programme is organised and run by Heidelberg Institute of Pharmacy and Molecular Biotechnology (IPMB), which is a modern, interdisciplinary centre for substance research. In addition, the Faculty for Chemistry and Physics, along with numerous other renowned research institutes (German Cancer Research Center, Heidelberg University Biochemistry Center, etc.) participate in providing education. This direct contact with state-of-the-art research, along with the clear focus on research and the outstanding teaching at Heidelberg University, including the involvement of internationally-renowned researchers, creates an ideal environment for knowledge-hungry students who plan to pursue international careers. The Institute also places great value on providing students with the highest level of assistance possible with both personal and administrative issues as well as giving them the support they need throughout the duration of their studies.  
The international flexibility of the Master's degree programme, along with the wide range of course offerings in soft skills, predestines graduates for stays at prestigious institutes within Germany, as well as abroad. It also enables them to develop their own individual research profiles, which can then be refined during pursuit of a subsequent doctorate.
Research at the Institute of Pharmacy and Molecular Biotechnology centres around the development, analysis, and application of substances and pharmaceuticals as well as the elucidation of molecular and cellular mechanisms of action. This involves the use of experimental techniques from the areas of chemistry, molecular and cell biology, pharmacology, bioinformatics, and pharmaceutical technology. Areas of research focus include nucleic acids as tools and therapeutic structures, new anti-infectives, molecular evolution research, and proteomics. Other key research areas include systems biology, drug targeting, substance transport, and research into neurodegenerative diseases. 
In addition, there is very close collaboration with a number of different research groups within other prestigious Heidelberg research institutions. This permits a broad spectrum of scientific inquiry, ranging from stimulated emission depletion microscopy (STED) to the identification of risk genes, to the description of cellular processes on the basis of mathematical and bioinformatical methods, as well as to computer-based analysis of medical images and to the biophysics of cell-cell interactions.
Graduates of the Molecular Biotechnology degree programme are ideally equipped to pursue careers in the life sciences. There are a multitude of diverse options: "MoBis" pursue careers at research institutes where the focus is on such areas as the natural sciences or medicine, or at universities, in the chemical-pharmaceutical industry, or for environmental authorities. There is also a demand for graduates in the Public Health Care and Medical Management industry as well as in scientific journalism. 
Curiosity was my initial reason for enrolling in the academic programme in Molecular Biotechnology. I then realised that I really enjoy learning about what happens and how to work at the smallest level of living beings.
Leah Zerlin, 21, Molecular Biotechnology, 3rd semester Bachelor
Newly admitted Heidelberg University students with foreign school-leaving certificates and admission have the opportunity to attend a four-week preparatory course in September to prepare for their studies.
Further Interesting Subjects