Faculty of Chemistry and Earth Sciences
Geography
Students of Geography focus on differentiated natural, economic and social processes particular to given localities. They consider the diverse interrelationships between such processes and their local effects.
Geographical issues have relevance to the natural sciences, the arts, social sciences and economics. As an applied science, Geography is particularly concerned with changes in societal values and interests. It follows that an increased focus has recently been placed on practical applications in the fields of physical geography, anthropological/economic, and social geography. As an academic subject, Geography therefore finds itself at the intersection between the natural sciences, social sciences, and the humanities. It is thus particularly suited to interdisciplinary collaboration.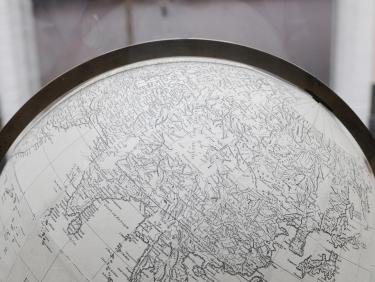 Special Features and Characteristics
In addition to lectures, seminars and courses offered by the Geography Institute, students of Geography may also select courses offered by the Geography department in the neighbouring South Asian Institute. Students may also benefit from close collaboration with the Heidelberg Center for American Studies (Heidelberg Center for American Studies, HCA), the Heidelberg Center for the Environment (HCE), and the Heidelberg Center for Latin America (Heidelberg Center Lateinamerika, HCLA).  
In addition to this, the Geography Institute maintains close links with a number of partner institutions outside of Germany. Cooperation also exists as part of the ERASMUS programme with universities in Bucharest, Budapest, Salamanca, Paris, Montpellier, Stockholm, Lund, Bergen, Perpignan, Barcelona, Prague and Loughborough.  
Students also benefit from the Geography placement initiative which provides information on job placements. They might also seek advice from student mentors from the Central Student Advisory Office, who support Geography students from the beginning of their studies right through to the final examination period. A well-equipped laboratory, as well as opportunities to apply a range of data collection methods in the field, enable students to develop their methodological skills.
Research activities carried out in the various departments of the Geography Institute inform the lectures, seminars and courses available as part degree programmes. So for example, practical excursions in the area are often associated with current research projects. This allows students to gain experience and understanding of research as part of their initial degree programme. The content of current and applied research is integrated in lectures, seminars and courses in applied Geography, or form the basis of group projects, or activities undertaken in "small research groups" (as part of the Master's degree programme). Whilst completing their theses, students from all departments are able to attend research colloquia during which subject-specific and methodological issues relevant to their theses are discussed.  
A number of different career options are open to graduates of a Geography programme. In addition to teaching, graduates might pursue a career in:  
research 
public and private economic planning 
property  
business consultancy 
town marketing  
promotion of trade and industry  
  Geographers are also increasingly finding employment in the following sectors:  
environmental protection 
tourism 
public relations 
market research  
in international organisations  
in the service industry and industrial firms  
I first became interested in geography at school. Geography comprises a broad spectrum of disciplines and has numerous applications in everyday life.
Daniel Seidel, 19, Geography, 1st semester Bachelor