Faculty of Economics and Social Sciences
Economics
Economic issues play a central role in our daily lives: economic growth, wage inequality and unemployment are featured just as frequently in the media as financial crises, emissions trading or the consequences of globalisation. At the same time, we must all make numerous economic decisions in our private and professional lives. Students in the economics programme focus on analysing and answering these and similar questions.
In order to analyse the, in part, extremely complex issues and to answer related questions, macroeconomics relies predominantly on mathematical and statistical methods and models. Effects and scopes of potential solutions can be investigated through logical thinking and alterations to individual model components.
Economists therefore attempt to abstract and solve societal problems in order to generate recommendations for action for various stake holders, including politicians and entrepreneurs. Working on the basis of models constitutes a major distinction to the methodologies employed in business administration.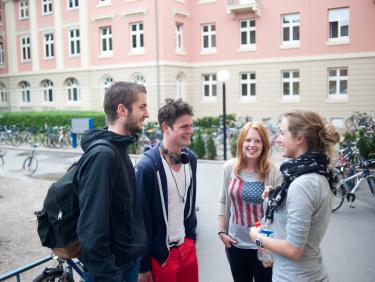 Special Features and Characteristics
Economics in Heidelberg combines traditional macroeconomic foci on mathematical and statistical methods with modern economic approaches (e.g. behavioural and experimental economics). In addition, students can gain insights into neighbouring disciplines in the social sciences, such as politics and sociology.
The Alfred Weber Institute for Economics has 14 professorships and is active in all areas of economic research. At the international level, it is particularly visible in the areas of research in economic theory, in particular in Decision and Game theory, experimental economics research and behavioural economics. Furthermore, there are also special research fields in international business and development economics as well as an own research centre for environmental economics. This variety of research interests is also mirrored in teaching, resulting in a research-oriented learning and working atmosphere. 
Economists have a multitude of very good career prospects. The ability to recognise, classify and solve problems through structured and analytical approaches is highly valued in many fields. Graduates often find work in some of the following areas: 
Economic departments of major businesses 
Banks and insurance companies 
National and international organisations 
Ministries 
Research institutes 
Consulting agencies 
Management
I consider Economics a good combination of political science and macroeconomics. The theoretical aspects help to make the subject matter easier to understand. I am also able to see the big picture thanks to the interdisciplinary perspectives.
Bernhard Trojca, 22, Economics, 5th semester Bachelor
Further Interesting Subjects