Faculty of Chemistry and Earth Sciences
Geoarchaeology
Geoarchaeology considers the influence of man on landscapes and investigates the historical relationship between man and the environment.
Degree programmes in Geoarchaeology at Heidelberg University combine knowledge and methods from archaeology, pre- and protohistory, geography and the earth sciences, to offer an interdisciplinary approach to the subject. The degree programme explores topics including the analysis of written sources, archaeological findings and resources, as well as accurate dating, and evaluation of maps and aerial images.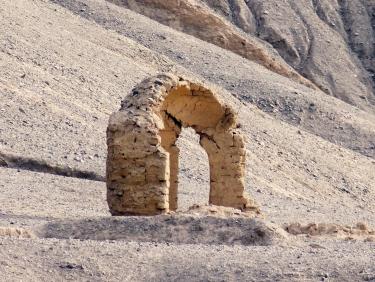 Special Features and Characteristics
The degree programme at Heidelberg University offers students scope to tailor their studies to their own interests. The course is interdisciplinary, drawing on both the humanities and natural sciences. Students are offered a wide choice of different field and laboratory methods.
Heidelberg provides opportunities for students to conduct scientific analyses in a range of areas including geochemistry and petrology, GIS, isotope analysis, palaeontology, physical age determination, sedimentology, pedology. In terms of archaeological course content, students explore established archaeological methods and techniques such as typology, style critique, and combination statistics, as well as aspects of cultural studies which determine man's interactions with the environment as culturally significant behaviours and perceptions.  
In addition to standard archaeological methods (archaeological digs, probing), data is also collected by the means of laser scanning, geophysical projection (geoelectrics, seismic refraction, geomagnetics, electromagnetic induction measurement). Students may also use archaeological surveys, classical and modern surveying methods, historical maps and written source analyses.
Research at Heidelberg currently focusses on southern Germany, the Alps and islands in the eastern Mediterranean (Argolis, Santorin, Crete). Geoarchaeological projects have also been running in South America (including a project on Nazca culture in Peru), in central Asia (Turfan oasis, North-west China) and east Asia (Xi'an, China). Research considers the Holocene epoch, with a particular focus on the Neolithic and Bronze Ages, and the Middle Ages. 
Thanks to the interdisciplinary nature of the degree programme, the depth in which the subject is explored, and student's ability to develop a tailored course, graduates of a degree programme in Geoarchaeology might enter a wide range of professions. There are rarely vacancies for geoarchaeologists as such, but job opportunities in the fields of geography, the earth sciences, pre- and protohistory and archaeology remain an option to students following graduation from the Bachelor's degree programme in Geoarchaeology. Students' chances of gaining employment in these areas may improve following completion of a Master's degree programme. Employment might also be found in public or private research institutes, in companies specialising in digs and archaeological prospection, Deutsche Bahn, the public administration as well as state agencies for the preservation of historical monuments.
I wanted to expand my archaeological horizon in the Master's programme in geoarchaeology and gain additional qualifications – especially as natural sciences are becoming increasingly important in archaeology.
Mario Ranziger, 27, Geoarchaeology, 7th semester (MA)