Medical Faculty Heidelberg
Dentistry
Dentistry is concerned with disorders of the teeth, jaw and mouth, and their treatment.
The degree programme in dentistry provides students not only with theoretical knowledge in the natural sciences and human medicine, but also with both theoretical and practical basic principles of diagnosis and treatment in the areas of restorative dentistry, dental prosthetics, orthodontics and oral, jaw and maxillofacial surgery. Following successful completion of the state examination, students are eligible for a license to practice dentistry. Generally, dentists work in their own medical practices or for an employer. There is also the option of pursuing clinical research and teaching at universities, in industry, or at training institutes.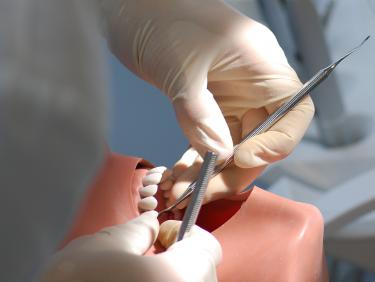 Special Features and Characteristics
The focus of the degree programme in dentistry is on intensive practice-oriented education and opportunities for treating complex actual cases under guidance of experienced assistants and senior physicians. Students benefit from the modern facilities and the opportunities for training outside of course hours. In the preclinical courses involving simulated patients, students may use their own dental units to learn and practice basic treatment procedures. Modern digital technology, such as intraoral scanning and computer-assisted preparation, will be utilized, as will operating microscopes. The clinical treatment facilities are state-of-the-art and are all equipped with operating microscopes.
To provide a sound basis for the diversity of dental practice, the various subject disciplines are introduced to students at an early stage. Teaching and examination methods, such as problem-based learning, feedback seminars, and standardised practical examinations, ensure that students are prepared for the demands of dental practice. Prior to the first contact with patients, or during patient treatment, training in dental communication will be provided (ZahnMediKIT, Heidelberg Communication Module HeiKomM-Z).
The necessary instruments for patient treatment will be provided, and, thanks to the central sterilisation system, the burden on students can be kept low. In the preclinical courses, instruments and a portion of the consumables must be acquired by the students themselves. New equipment may cost up to 9,000 euros, but the "Kofferbörse" ("instrument case market") provides an opportunity to acquire used equipment at a much lower price.
Heidelberg is an innovative research institute with excellent infrastructure and links to numerous other research areas. Top-ranked research, including, in many cases, projects funded by the German Research Foundation (DFG), is conducted within all sub-disciplines. New insights and results from the clinical research are directly integrated into teaching. 
Major areas of focus in Heidelberg include: 
Functional diagnostics and treatment
New treatment procedures for endodontics and periodontology
All-ceramic restorations
Direct composite restorations
Imaging techniques in implantology
Mechanical and cell biological testing of dental materials
Biology of orthodontic tooth movement
Training research
Dentists find employment in
dental practices and dental clinics
medical research and teaching
industry
at health authorities, health insurance companies, and dental associations.
It should be noted that other than working in an independent dental practice, only a relatively small number of positions are available in other fields of work for dentists.
The combination of practical, medical, social and technical areas in dentistry is basically unique. The interdisciplinary aspects and the beautiful town make Heidelberg the perfect place to go to university.
Benjamin Kux, 25, Dentistry, 11th semester State Examination
Newly admitted Heidelberg University students with foreign school-leaving certificates and admission have the opportunity to attend a four-week preparatory course in September to prepare for their studies.
Further Interesting Subjects