Faculty of Biosciences
Biology
Biology considers the networked systems of the biosphere. It primarily considers human life and can therefore be considered an essential science.
The networked systems of the biosphere include:  
Interactions between organisms with the environment and the relationships of organisms to and between one another 
the diversity of living organisms, their structure, growth and functions 
the functions of cells and their components  
the genetic information contained in DNA and their interaction with proteins and other cell components. Advances in genetic engineering have enabled us to understand the functions of genes and proteins and attribute new characteristics to organisms via the creation of new genetic combinations.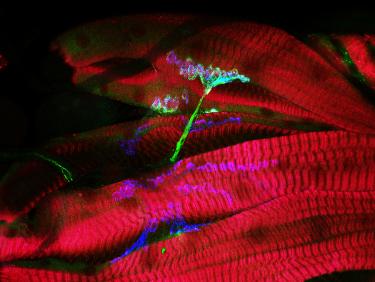 Special Features and Characteristics
Research at Heidelberg University covers all of the abovenamed fields, with a particular focus placed on molecular biology. Professors and lecturers working within the field of Biology at Heidelberg University are not only members of the faculty's institutes (Interdisciplinary Center for Neurosciences (IZN), Institute of Pharmacy and Molecular Biotechnology (IPMB)), but also of additional institutions which work in collaboration with the University. These institutions include the Centre for Organismal Studies Heidelberg (COS), the Heidelberg Centre for Molecularbiology (Zentrum für Molekularbiologie Heidelberg, ZMBH), the Heidelberg Centre for Biochemistry (Biochemie Zentrum Heidelberg, BZH), Bioquant, the German Cancer Research Center (Deutsches Krebsforschungszentrum, DKFZ), the European Molecular Biology Laboratory (Europäisch-Molekularbiologisches Laboratorium, EMBL), the Max Planck Institute for Medical Research (Max-Planck-Institut für medizinische Forschung), the Interdisciplinary Center for Scientific Computing (Interdisziplinäres Zentrum für wissenschaftliches Rechnen, IWR), and the Institute for Human Genetics (Institut für Humangenetik). With a total of around 100 research groups, Heidelberg is the largest centre of molecular biological research in Germany, and one of the largest in the world. This has made Heidelberg of such interest to companies in the chemical and pharmaceutical industries that various collaborative projects have developed, a technology park has been established in Neuenheimer Feld, and the BioRN network has been developed in the Rhein-Neckar-Triangle. Thanks to comprehensive and outstanding research being carried out in the region, Heidelberg has an excellent national and international reputation and offers students a unique education in this subject area. 
The Faculty of Biosciences at Heidelberg University is one of the most lively and interactive life science faculties in Europe. Research conducted within the Faculty covers a broad range of disciplines, from molecular biosciences to biodiversity, including biotechnology and pharmaceutics, and considers questions on all experimental and computer-assisted levels of structural and systems biology. 
The breadth and quality of the research conducted within the life sciences community in Heidelberg is illustrated by the number of special research areas and training networks which are supported by third-party funding.
Biology graduates may pursue a career in any of the following: 
universities and research institutes 
businesses in the pharmaceutical and chemical industries 
healthcare, including in hospital laboratories 
botanical and zoological gardens and parks 
public administration, including environmental agencies 
education, including as a teacher in a German secondary school (Gymnasium)
I study Biology and Chemistry because it is and always has been my greatest interest. I find it incredibly fascinating to understand how things work at the cellular and molecular level in order to explain everyday phenomena.
Nicolas Müller, 22, Biology, 5th semester Bachelor
Newly admitted Heidelberg University students with foreign school-leaving certificates and admission have the opportunity to attend a four-week preparatory course in September to prepare for their studies.