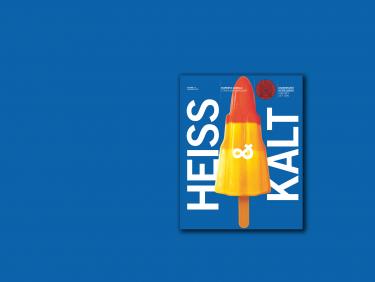 DEAR READERS OF RUPERTO CAROLA,
"Summer is the time when it is too hot to do the job that it was too cold to do last winter." This quote by Mark Twain seems to me the perfect introduction to the newest edition of our RUPERTO CAROLA research journal. It segues seamlessly into our central subject of HOT & COLD, which – not surprisingly after the long, hot summer of 2018 – deals with one of the great challenges of our time: climate change. Several articles in this edition study this urgent problem from the perspective of very different disciplines – an excellent example of how humankind's biggest issues can only be addressed through cooperation across disciplines and the pooling of knowledge and competences. We firmly believe that the breadth of study at our University is the foundation upon which our future will be built.
As you peruse our journal, you will encounter the subject of HOT & COLD in many other contexts as well: in volcanology, "hot chemistry", in the age dating of ice, in the "hot" and "cold" emotions that are typical of personality disorders and in the question of how heat and cold can be expressed through music. Researchers from such diverse fields as pharmacology, cultural studies, literature, physics and the history of medicine will take you on a journey exploring the many facets of HOT and COLD.
I wish you an enjoyable and inspiring reading experience.
Prof. Dr Dr h.c. Bernhard Eitel
President of Heidelberg University