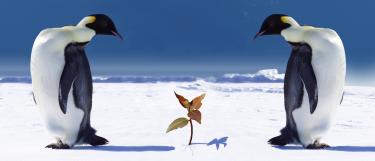 Heidelberg University feels bound to actively contribute to the scientific investigation, assessment and discussion of climate change, and to the development of tools, methods and technologies for a more sustainable use of the earth's resources. The Heidelberg Center for the Environment (HCE) makes Heidelberg University the first university in Baden-Württemberg to bring together environmental science activities in research, teaching and scientific communication across disciplines in one institution. In addition, Heidelberg boasts the state's only institute for environmental physics. The university's Institute of Geography and Institute of Earth Sciences also have chairs with a special focus on environmental and climate-related research.
Each semester the HCE and numerous other institutes of Heidelberg University, such as the Institute of Environmental Physics and the Institute for Political Science, offer courses and seminars dealing with environmental, climate and sustainability issues. Most of these events can be attended by students of different disciplines.
In addition to establishing environmental science as an integral part of research and teaching, Heidelberg University has also implemented a wide range of environmental and climate protection measures at the operational level. The university's electricity has been 100% green since 1 January 2017. Besides switching its energy supply to renewables, the university has put in place a comprehensive floor-space management system and taken measures to reduce its operating costs as far as possible. All new and renovated buildings meet the low-energy or passive house standard. Since 2010 the university has employed an environmental officer in charge of water saving measures, waste management and eco-friendly procurement.
Sustainability Think Tank (STT)
On the way towards developing a comprehensive sustainability strategy, Ruperto Carola has founded a university-wide Sustainability Think Tank (STT). Based at the Heidelberg Center for the Environment (HCE), the STT aims to devise practical steps towards promoting sustainability in a participatory process, as well as merging, expanding and spotlighting existing initiatives. At a kick-off meeting in November 2023, five working groups were formed to deal with sustainability in the areas of research, teaching, communication and transfer, operations, and research operations. In future, the results from the different working groups will be presented and discussed in plenary twice a semester. All university staff are warmly invited to take part in the working groups. Please sign up briefly with stt@hce.uni-heidelberg.de