Sustainability
Studying & Teaching
Courses and seminars on subjects relating to sustainability, the climate and the environment are offered every semester for all study phases. Most of these events are interdisciplinary. In the winter term, the university offers an annual tutorial that includes an excursion to the United Nations Climate Change Conference and is intended for advanced Bachelor students and for Master students of all disciplines and faculties. A number of degree programmes award additional credit for this tutorial if it is listed in the 'General skills' (ÜK) section.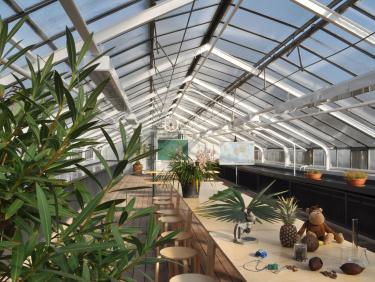 Digital teaching award
Dr Nicole Aeschbach has received a digital teaching award of Heidelberg University for her seminar 'KlimaWandelWissen' at the TdLab Geography, which she held in the summer term of 2020. The interdisciplinary seminar covered subjects like natural and anthropogenic causes of climate change, climate history, data and facts on current climate change and local, regional and global effects of planetary warming.
heiSKILLS: Learning to teach sustainability
heiSKILLS, Heidelberg University's new competence and language centre, is offering a number of advanced training courses on questions relating to sustainable development; the courses are intended for members of the university's teaching staff. Participants will learn how to teach their own students specific skills that are required to address environmental, climate and sustainability issues and the associated societal challenges. The aim is to enable the participants to develop their own teaching concepts based on the methods discussed. The courses also highlight interactive teaching and study formats that permit a continuous exchange between participants across subject boundaries.