START UPeritivo by hei_INNOVATION
"Chatting, laughing, having a drink and enjoying the presence of friends and nice people" – that is not only a definition of the Italian aperitivo time, but, from now on, also of our hei_INNOVATION Stammtisch: the START UPeritivo by hei_INNOVATION.
Inspired by that social moment after work, we want you to meet startups, other students, future entrepreneurs, investors, industry partners and many, many more. Meet us monthly at our new Stammtisch format and get inspired.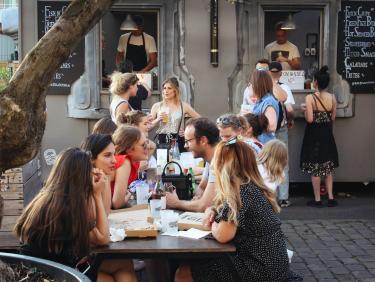 Start UPeritivo: Christmas Market Edition
December 8, 2022 | 6 pm
Mathematikon: Haupteingang, Klaus-Tschira Platz, UG 1, Atrium | Im Neuenheimer Feld 205, 69120 Heidelberg
Live podcast recording with Basti and Chris from Spätzle Valley: Life is a Pitch. Mit Netzwerken zum Erfolg.
Ho ho ho 🎅! Can you already hear Mariah Carey sing All I Want for Christmas from the radio speakers 🎤? On December 8, we take out the winter gloves, warm up the mulled wine and plug the speakers to the Jingle Bells playlist. But not only our Christmas classics 🎄 will you hear from the speakers, we also have two very special guest on board: Christian Veit and Sebastian Demuth from 🎧 Spätzle Valley will record an episode of their podcast live at the START UPeritivo 🎉. With guests Ira Stoll and Julia Piechotta, they will talk about the importance of networking, what matters while looking for investors and whether pitching is actually any good at all. The podcast recording will be in German and you can ask your questions live . Also, fresh tartes flambée from the oven, waffles and delicious mulled wine will be waiting for you.
Please register for the event through the link below.
All Start Uperitivo Dates
START UPeritivo takes place once a month as an afterwork event. We are updating the events whenever there is new info on one of the UPeritivos so do check in with us from time to time. We will post the first dates for 2023 very soon!
Impressions of our START UPeritivo in June

Supported by