START UPeritivo by hei_INNOVATION
"Chatting, laughing, having a drink and enjoying the presence of friends and nice people" – that is not only a definition of the Italian aperitivo time, but, from now on, also of our hei_INNOVATION Stammtisch: the START UPeritivo by hei_INNOVATION.
Inspired by that social moment after work, we want you to meet startups, other students, future entrepreneurs, investors, industry partners and many, many more. Meet us monthly at our new Stammtisch format and get inspired.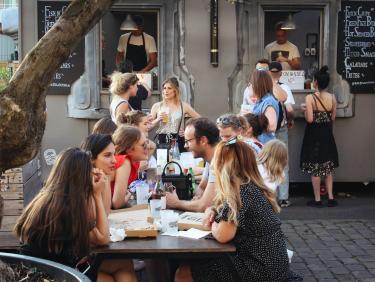 Diese Seite ist derzeit nur auf Englisch verfügbar.
Zünder für Gründer x START UPeritivo
Wednesday, Juni 1, 2022 | 6 pm
DEZERNAT#16, Emil-Maier-Straße 16, 69115 Heidelberg
Talk by Barbara Stegmann, Founder and CEO of Living Brain
Zünder für Gründer meets START UPeritivo at Dezernat#16!
We are very excited for our next event as it is going to be a cooperation with the Kultur- und Kreativwirtschaft of the city of Heidelberg, Dezernat#16 and the Heidelberg Startup Partners. We are inviting you to join us for an early summer evening, have a nice barbecue, listen to an inspirational talk, see what's going on on our interactive pitch stage and network while having a drink. Join us, will you? 😎🌞🔥
The event will be in German.
Please register ahead of the event through the link below.
All Start Uperitivo Dates
START UPeritivo takes place once a month as an afterwork event. We are updating the events whenever there is new info on one of the UPeritivos so do check in with us from time to time.
June 1, 2022: Zünder für Gründer x START UPeritivo
June 30, 2022: Design Drinking
September 2, 2022: Get-Together with Foodtruck
October 5, 2022: Students Meet Startups
November 3, 2022: TBA
December 1, 2022: START UPeritivo Christmas Market Edition