START UPeritivo by hei_INNOVATION
"Chatting, laughing, having a drink and enjoying the presence of friends and nice people" – that is not only a definition of the Italian aperitivo time, but, from now on, also of our hei_INNOVATION Stammtisch: the START UPeritivo by hei_INNOVATION.
Inspired by that social moment after work, we want you to meet startups, other students, future entrepreneurs, investors, industry partners and many, many more. Meet us monthly at our new Stammtisch format and get inspired.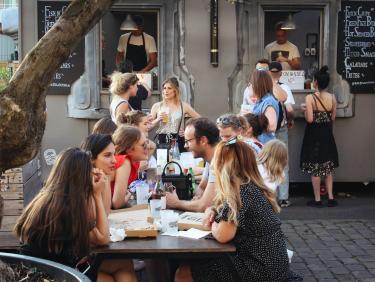 Diese Seite ist nur auf Englisch verfügbar.
Next START UPeritivo: Matchmaking
Event is cancelled but will hopefully take place in spring.
In coopration with:
All Start Uperitivo Dates
START UPeritivo takes place once a month as an afterwork event. We are updating the events whenever there is new info on one of the UPeritivos so do check in with us from time to time.
November 3, 2022: Start UPeritivo meets Entrepreneurial Skills Certificate Launch Event
December 8, 2022: START UPeritivo Christmas Market Edition
Impressions of our START UPeritivo in June
Zum Vollbildmodus wechseln

Zum Vollbildmodus wechseln

Zum Vollbildmodus wechseln

Zum Vollbildmodus wechseln

Zum Vollbildmodus wechseln

Zum Vollbildmodus wechseln
Supported by