START UPeritivo by hei_INNOVATION
"Chatting, laughing, having a drink and enjoying the presence of friends and nice people" – that is not only a definition of the Italian aperitivo time, but, from now on, also of our hei_INNOVATION Stammtisch: the START UPeritivo by hei_INNOVATION.
Inspired by that social moment after work, we want you to meet startups, other students, future entrepreneurs, investors, industry partners and many, many more. Meet us monthly at our new Stammtisch format and get inspired.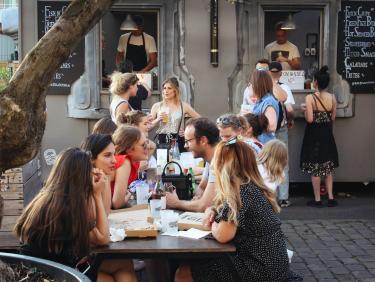 Diese Seite ist nur auf Englisch verfügbar.
START UPeritivo: The Science of Networking
February 15, 2023 | 6 pm
Marsilius Kolleg, Im Neuenheimer Feld 130.1, 69120 Heidelberg
Your network is your net worth. 🤝
Networking is the key to personal, business and professional success 🙌. It is more than just exchanging business cards or connecting via LinkedIn. Networking means cultivating relationships, creating synergy effects, helping and supporting each other. In networks, we learn from each other and grow together. In relation to the saying "If you want to go fast, go alone - if you want to go far, go with others 👨‍👩‍👧‍👦", we want to dive deeper in the art of networking.
Why is networking so important, how does it actually work and what should you look out for when setting up your own network? All these questions will be addressed in a talk at our next START UPeritivo with Dr. Lenka Kyjacova.
Bring your business cards, prepare your LinkedIn QR code and don't forget to register ahead of the event!
All Start Uperitivo Dates
START UPeritivo takes place once a month as an afterwork event at 6 pm. We are updating the events whenever there is new info on one of the UPeritivos so do check in with us from time to time.
March 31:  START UPeritivo: INNOVATION SCHOOL Finale & STARTUP LAB Kickoff  
April 24: tba
May 4: START UPeritivo: Matchmaking in cooperation with Deep Tech Hub @KIT
May 23: START UPeritivo: After work drinks
June 13: Start UPeritivo meets Zünder für Gründer
July 27: START UPeritivo: Sundowner
September 28: tba
October 26: tba
December 7: START UPeritivo: Christmas Market Edition
Impressions of our START UPeritivo in June
Zum Vollbildmodus wechseln

Zum Vollbildmodus wechseln

Zum Vollbildmodus wechseln

Zum Vollbildmodus wechseln

Zum Vollbildmodus wechseln

Zum Vollbildmodus wechseln
Supported by