Diese Seite ist nur auf Englisch verfügbar.
START UPeritivo by hei_INNOVATION
"Chatting, laughing, having a drink and enjoying the presence of friends and nice people" – that is not only a definition of the Italian aperitivo time, but, from now on, also of our hei_INNOVATION Stammtisch: the START UPeritivo by hei_INNOVATION.
Inspired by that social moment after work, our UPeritivos are a possibility space for students, (post)docs, future entrepreneurs, startups, scientists, investors, industry partners and everyone who is interested in the topics entrepreneurship, knowledge transfer and innovation. Meet us monthly at our Stammtisch format and get inspired.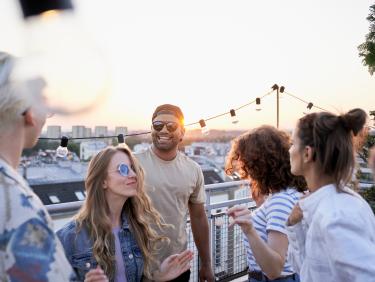 Our goal is to offer participants of our events a platform for networking, to give interested academics the opportunity to inspire each other and to bring together students and all those interested in the topics of innovation, entrepreneurship, knowledge transfer or startups. Each START UPeritivo takes place at a different location in Heidelberg and has a different motto. We invite speakers, organize workshops or give the microphone to you for a pitch or two. Come by any time and have a relaxed after-work evening after your day in the lecture hall, lab, office or elsewhere.
Take a look at our last START UPeritivo in June. Video by heyen&friends!
All Start Uperitivo Dates in 2024
START UPeritivo takes place once a month as an afterwork event at 6 pm. We are updating the events whenever there is new info on one of the UPeritivos so do check in with us from time to time.
February 20, 2024
tbd
March 18, 2024
START UPeritivo: Investor Insights
April 24, 2024
tba
May 15, 2024
START UPeritivo: Impact Day Special
May 23, 2024
tba
June 27, 2024
START UPeritivo: meets Zünder für Gründer
in cooperation with Kultur- und Kreativwirtschaft Heidelberg, Dezernat#16 and Heidelberg Startup Partners
July 23, 2024
START UPeritivo: Sundowner & Freesytle Cocktails with Raoul Haschke
September 25, 2024
tba
October 20, 2024
START UPeritivo: Science Slam
November 14, 2024
tba
December 4, 2024
START UPeritivo: Christmas Market Edition
Impressions of our START UPeritivos
Zum Vollbildmodus wechseln

Zum Vollbildmodus wechseln

Zum Vollbildmodus wechseln

Zum Vollbildmodus wechseln

Zum Vollbildmodus wechseln

Zum Vollbildmodus wechseln

Zum Vollbildmodus wechseln

Zum Vollbildmodus wechseln

Zum Vollbildmodus wechseln
Supported by