Faculty of Behavioural and Cultural Studies
Psychology
Students of psychology learn about human experiences and behaviour. Based on empirical research, students attempt to describe, understand and predict human behaviour in all areas of life as well as implications for psychological interventions.
Over the course of the academic programme, students should acquire knowledge, skills and experiences that will qualify them to work as psychologists. This career includes diagnostic, consulting, evaluating and intervening tasks in the social and health service sector, in education and further training, in administration, business and industry, as well as in psychological research and teaching. Students in an academic programme in psychology can expect to gain insights into various areas of psychology, which also lay the foundation for subsequent specialisation (in the Master's programme).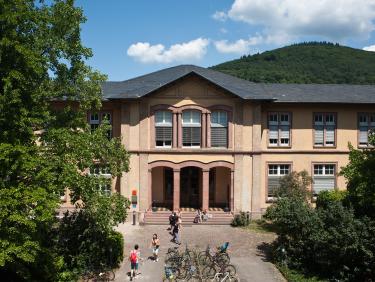 Special Features and Characteristics
The aim of teaching at the Psychological Institute is to represent psychology in its thematic variety so that students can gain an overview of the subject and make a competent and informed decision for a later specialisation. The Psychological Institute also attaches great importance to ensuring that beginning students are properly welcomed to the department. To this end, the institute organises a week-long introductory compact seminar in which students are provided with the opportunity to get to know the academic programme, the institute, the working groups and their new peers in order to become best prepared to start their studies. 
An important overarching research interest in psychology at Heidelberg University is currently the analysis of (self-) regulation processes. Numerous questions are investigated from the various areas of psychology: What exactly is the ability to self-regulate and how does it develop in a lifetime? Are there inter-individual and cultural differences? Which are the underlying brain processes of self-regulation processes? Which internal and external factors that influence self-regulation exist? What is the connection between self-regulating abilities and decision making and problem solving processes? What roles does self-regulation play for successful educational and professional trajectories and a healthy life? What are the effects of impaired self-regulation processes? 
Furthermore, theoretical and empirical research at the Psychological Institute is characterised by:  
complex problem-solving 
developing tasks for PISA 
learning and cognition in early childhood 
development of human thinking in the context of brain maturation 
differential psychology of emotions, motivation and attentiveness 
gender and health psychology 
judging and making decisions in ecological contexts 
rationality and meta-cognition 
social influence on sustainable behaviour 
stress and health management 
innovation and change in the world of employment 
clinical emotion research 
care and psychotherapy research 
motivational and other conditions of learning and teaching 
quality of teaching in higher education 
psychology of ageing 
 development of modern methods for statistical data modelling 
The career options of the graduates are as diverse as the subject itself (the professional title 'psychologist' may not be used until after graduating from the Master's degree programme). Depending on the areas of specialisation, graduates may find work in  
occupational psychology 
educational counselling 
human resources development 
psychotherapy 
mediation 
opinion research 
school psychology 
business consultancy 
traffic psychology 
science
In my opinion, the diversity of scientific disciplines encompassed by the subject as well as the wide range of potential future careers make psychology an extremely fascinating and inspiring degree programme.
Johann-Konrad Weber, 18, Psychology, 1st semester Bachelor
Further Interesting Subjects