Faculty of Philosophy
Egyptology
Egyptology is the study of ancient Egyptian civilisation in all of its aspects. The time span covered comprises approximately 5,500 years, beginning in prehistory in the fifth millennium B.C.E. and ending with the Arab conquest of Egypt in 641 C.E. The geographical region to be examined consists of the Lower Nile Valley and its neighbouring regions.
The cultural studies approach of the programme as well as the close relationship between textual sources and material relicts makes the focus of Egyptology studies simultaneously philological, archaeological, and, in a general sense, cultural-historical. The degree programme is therefore extremely versatile. Students in the Egyptology degree programme will learn the hieroglyphic and cursive forms of the written language, including their different stages, and will learn Old Egyptian in all of its phases. They will obtain a precise overview of all of the regions and epochs of ancient Egyptian culture and will immediately begin to make new scientific discoveries. Students in the Egyptology degree programme must, therefore, possess a high degree of learning potential and a good memory, as well as the capability for independent thought and a high degree of stamina.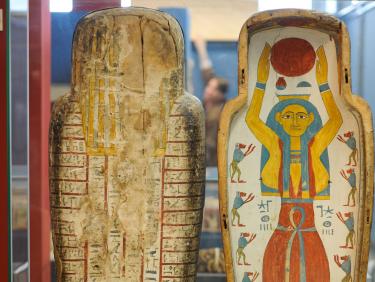 Special Features and Characteristics
In Heidelberg, the Egyptology programme is particularly focussed on the philological aspect, making Heidelberg one of the few Egyptology programmes in Germany where Demotics is taught. The Egyptology degree programme at Heidelberg University benefits greatly from the presence of numerous other ancient studies subjects offered at the university – e.g. Papyrology, Classical Archaeology, Ancient History, Pre- and Protohistory, Assyriology, and Near Eastern Archaeology – as well as the exceptional holdings of its Egyptology library. The Institute also possesses its own substantial Egyptology collection, which is available for study purposes.
The research focus within the Heidelberg Egyptology programme is on a number of cultural studies topics. Particular emphasis is placed upon the philology of Old Egyptian and the creation and editing of Old Egyptian papyri and hieroglyphic texts. At the same time, the culture of ancient Egypt during its late period will be examined, especially in context of its interaction with neighbouring cultures, including Demotic sources and reception by the ancient Egyptians. These will be examined methodologically, relying, to a great extent, on digital approaches.
Graduates of the Egyptology degree programme pursue careers in a variety of areas, including:  
in scientific research and teaching at universities (with doctorate) 
in the Cairo office of the German Archaeological Institute  
in museums with Egyptian collections  
in publishing houses, libraries, and archives 
at institutions for adult education  
in documentation units, e.g. at press agencies, corporations, or in museums  
I have always been fascinated by ancient Egyptian culture. The combination of Egyptology and classical archaeology allows me to learn about the interconnections of antique cultures and apply this knowledge in practice.
Yasmin Nachtigall, 28, Egyptology, 2nd semester Bachelor