Faculty of Behavioural and Cultural Studies
Education Studies with a Focus on Organisational Development
By conveying a high degree of specialised and research-methodological skills and knowledge, the Master's degree programme "Education studies with a focus on organisational development" enables students to cover, analyse, support, promote and evaluate individual, group-based and organisational learning and system development. In addition, the scope of potential differing educational contexts where these skills can be applied is also very broad, including businesses, private, interest- or value-oriented continuing education institutions such as adult education centres (Volkshochschulen) as well as regular schools.
Prioritisation of foci in the range of courses is based on current changes in educational systems as well as on macrosocial transformation processes. Accordingly, needs and expectations in the field of adult education and continuing education are changing not least due to an increasing share of older employees, integration of refugees and migrants in the labour market, pluralisation of education trajectories and heterogeneity of educational biographies as well as growing digitalisation. This leads to continuing design and development requirements at individual, group-based and organisational levels.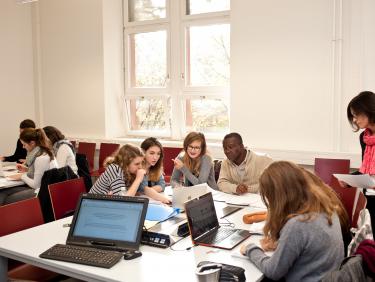 Special Features and Characteristics
The aim of the degree programme is to develop and promote specialised skills for the organisational development focus with a distinct research orientation, transdisciplinary dialogue competence, practice-oriented problem-solving competence as well as the development of personal and social skills. The degree programme opens up the possibility to pursue a variety of careers in education and consulting, such as in internal human resources development or in organisational consulting.
The focus of research at the Institute for Education Studies is in the area of education and counselling over the course of a lifespan. Employing empirical educational research methods, researchers examine issues relating to various age categories (toddlers, school-age children, young adults, mature adults) and different levels of access (individual, organisational, systemic). In teaching, the main focus is on the areas of school education, adult education and counselling.
Graduates of the degree programme pursue careers in the area of general, value- and interest-oriented and internal continuing education, as university instructors or school teachers, in educational research, in administration, or as counsellors.
I study education studies with a focus on organisational development because I would like to work in HR and organisation development. I chose Heidelberg, because, in comparison to other MA programmes, the degree programme at Heidelberg University is extremely practice-oriented.
Alina Steinhilber, 23, Education Studies with a Focus on Organisation Development, 3rd semester (MA)