Faculty of Modern Languages
Computational Linguistics
Computational linguistics explores how human language might be automatically processed and interpreted. Research in this area considers the mathematical and logical characteristics of natural language, and develops algorithms and statistical processes for automatic language processing.
Human language is processed by computers in every sector of contemporary society. Smartphones are required to register the meaning of language inputs, machine translation helps us to communicate, and information from large data sets is extracted and summarised.  
Computational linguistics concerns the development and analysis of the methods which facilitate these applications and others like them. Analysis might therefore focus on anything from fundamental linguistic issues such as modelling the meaning of the word and recognising the grammatical structure of sentences, to complex applications such as machine translation or the assessment of statements for factual accuracy. Analysis is conducted using statistical and computational processes such as neural networks or processes borrowed from logic. Computational linguistics therefore makes an important contribution to the further development of artificial intelligence and serves as a driver of innovation in this field.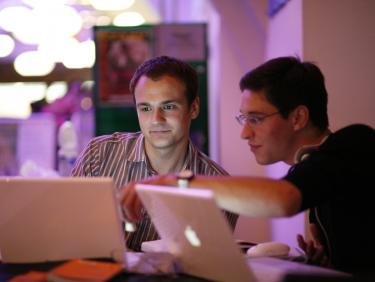 Special Features and Characteristics
Degree programmes in computational linguistics at Heidelberg University ensure that students are familiar with the practical applications of the subject. As such, students are involved in research at the Institute early on in the course. The knowledge which students gain via this practical approach will be of benefit if they go on to work in industry, or if they continue in research. 
The practical element of the degree programme entails compulsory programming courses, software projects, and work placements. There are numerous work placements in the Rhein-Neckar-Region which have a strong association with computational linguistics. Students might also choose to write their theses in collaboration with a business or other external partner institution. 
The use of academic assistants in research projects and the involvement of students in research seminars ensures that students participate in research early on in the course. A wide range of research projects are conducted at the Institute, giving students great scope for participation. The Institute arranges regular lecture series with well-known external academics on current issues within computational linguistics. In addition, it maintains cooperation agreements with a number of research institutes in the region. 
The Institute has strong connections with related institutes within the University, including the Institute for Computer Science. This relationship is strengthened through cooperation with the interdisciplinary Center for Scientific Computing (Zentrum für Wissenschaftliches Rechnen, IWR). There are frequent lectures and seminars focussing on interdisciplinary topics.
Research conducted in the field of computational linguistics at Heidelberg University ranges from analysis of fundamental issues within the field of computational linguistics, to the development of diverse applications. 
Fundamental research addresses research questions in areas such as semantics and discourse analysis, and considers problems relating to AI and machine learning. 
When it comes to research relating to practical applications of computational linguistics, the Institute covers a broad spectrum of current topics ranging from machine translation to question-answer systems, automatic text summary programmes, and argument analysis, to systems which feed in knowledge databases. 
The Institute cooperates closely with the computer science institutes in Heidelberg and Darmstadt, the Institute for German Language in Mannheim (Institut für Deutsche Sprache in Mannheim), and the interdisciplinary research institute for information technology, the "Heidelberger Institut für Theoretische Studien" (HITS gGmbH), which is part of the Klaus Tschira Foundation. This institute has research departments focussing on fields including computational linguistics, statistics and bioinformatics.
Graduates of a degree programme in computational linguistics may find employment in 
Industry: Computational linguists develop tailored solutions for language-based information processing via the application of tested methods from research. Processes considered might include but are not limited to web searches, knowledge extraction, multilingual product marketing, language learning software, information systems. 
Research: Computational linguists based in universities and research departments in businesses research new models and methods relating to core topics within computational linguistics. Interdisciplinary research is becoming increasingly important, for example in the field of digital humanities. As a result, the humanities and social sciences are gaining recognition through computer-supported source analyses (who receives what information at what point?), the discovery of language patterns and argumentation structures in literature, politics and historical texts. Similarly, automatic extraction of information from academic texts is used as an efficient means of fact retrieval in the life sciences (eSciences).
Computational Linguistics is a contemporary field of study that enables me to learn about how to deal with large data sets that go beyond mere linguistics. It also provides me with the opportunity to study current topics such as neuronal networks and Deep Learning.
Christoph Schaller, 22, Computational Linguistics, 5th semester Bachelor
Further Interesting Subjects