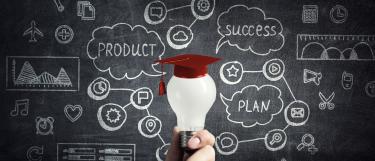 Are you looking for interdisciplinary skills that will help you in life, in research or in your career? If you, as a student, doctoral candidate or post-doctoral researcher from all disciplines, further your education in the field of entrepreneurial skills, you will be able to
develop transfer strategies to transfer knowledge and innovations to society and industry;

apply your own skills to new areas to commercialise/promote innovations or ideas;

identify needs and match them with suitable ideas;

develop business models and implement them in the market;

present an idea that is important to you in a short pitch.
All modules offered can be credited as part of Cross-Disciplinary Skills.
Aim of the advanced training
Entrepreneurs distinguish themselves by identifying market gaps and creating offers for these and by transforming solution models for challenges into viable and scalable products and business models. The ability to think in a visionary way and to develop innovative concepts for the great challenges of our time are not only elementary for an entrepreneur, but are becoming increasingly important in all areas of the working world. Even if you don't work directly on solving current challenges, the so-called entrepreneurial skills help you enter and advance in your professional life.
The university's transfer agency hei_INNOVATION, in cooperation with heiSKILLS Competencies and Language Centre, has developed a module catalogue whose modules introduce Bachelor's and Master's students as well as doctoral students from all disciplines to the topics of innovation, entrepreneurship and entrepreneurial skills. They enable members of the university to further their education in this area to an extent of their own choosing at no additional cost.
All modules at a glance
Entrepreneurial Skills Certificate
The Entrepreneurial Skills Certificate documents successful completion of a broad basic education in the area of entrepreneurship. The module catalogue has three pillars with compulsory and elective modules, as well as specialised subjects for three different special fields.  The courses offered combine the  theoretical basics with practical exercises. Since the University of Heidelberg, as a comprehensive university, offers its students a comprehensive academic education across all disciplines life sciences, natural sciences, humanities, and social sciences, the aforementioned modules as well as their combination for the Entrepreneurial Skills certificate are suitable for students of all subject areas.
In order to obtain the Entrepreneurial Skills Certificate, 15 credit points must be earned. The courses in pillar 1 are mandatory. It is also mandatory to choose a specialisation in pillar 2 and to attend one of the three basic courses 2A, 2B or 2C. The mandatory courses with a total of eight credit points are completed by elective modules from pillar 2 and/or in-depth modules from pillar 3 with a total of seven additional credit points.
Focuses of the Certificate
The special field of "Entrepreneurship – Start-up" is suitable for students who may want to found their own businesses independently of the university. The special field of "Entrepreneurship – From Research" is also aimed at future founders. However, its target group are those who would like to establish their own companies based on their research work at the University of Heidelberg. Students who do not plan to start their own business but are interested in entrepreneurship and the innovative development of ideas are the target group of the special field of "Intrapreneurship". This specialty prepares students for a day-to-day entrepreneurial role within an economic business structure.
Individual attendance of the modules
If you do not wish to complete the entire certificate, you can attend each module individually and receive a certificate of attendance. Most modules are thematically closed and can be attended without prior knowledge in entrepreneurship or prior knowledge of specific topics. Course participants thus have the opportunity to acquire individual (entrepreneurial) competences or to combine only a few modules with each other. The exact requirements for participation can be found in the module handbook.
Supported by