Faculty of Modern Languages
Editorial Theory and Textual Criticism
Students in the Master's degree programme in editorial theory learn the practical aspects of source development and practically-oriented fundamental research in the area of literary traditions of medieval and modern Europe. Furthermore, they receive a thorough philological education in which use of editorial tools and the ability to conduct intensive interpretations are trained.
Various fields of activity associated with practice in the Humanities converge and are the focus of modern editorial theory and textual criticism. In the area of fundamental research, students develop and record documented tradition. On the basis of reflected acquisition, they further develop an understanding and create meaning for the present. As a result, the course pursues an interdisciplinary approach.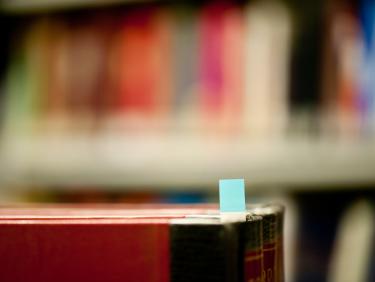 Special Features and Characteristics
What makes the degree programme unique is that it combines issues associated with general hermeneutics and conceptual work with the concrete development of historical documents. During their course, students are provided with the opportunity to independently develop small-scale editorial projects related to Heidelberg. This approach is normally associated with academies of art. It enables students to gain in-depth insights into practical work and promotes individuality and autonomy at an early stage. 
The programme cooperates closely with the Heidelberg Academy of Sciences and Humanities, the Institut für Textkritik e.V. (Institute for text criticism) in Heidelberg and Heidelberg's University Library. Due to the aforementioned institution's applied editorial practice and the, as yet, undeveloped archives, they are considered ideal partners, especially in regard to students' mandatory internship. 
Current editorial projects include: 
historical-critical Brandenburg Kleist volume  
historical-critical Franz Kafka volume  
critical contributions to TEXT  
Europa Humanistica  
Camena - Latin texts of early modernity  
editing of Lodz Ghetto chronicles and associated Holocaust texts  
Bucers Deutsche Schriften
Graduates are qualified to work in university and non-university publishing jobs. In addition, they may also find employment in institutions that deal with the development and description of historical material (state and private archives, museums, exhibitions, auction houses etc.). Thanks to their experience with different types of editing and publishing techniques, graduates are also qualified to work in publishing houses or in the media.
I study Editorial Theory and Textual Criticism because I am fond of books and am interested in the process of how publications are created. The academic programme unites stimulating hermeneutic discussions about texts on literary tradition with the theoretical and practical background associated with the creation of publications. We learn to conduct basic research in the Humanities as well as how to use dtp-programmes, read old German manuscripts and the ins-and-outs of modern publishing houses.
Luca Klopfer, 26, Editorial Theory and Textual Criticism, 3rd semester Master