Individual Consultation Sessions with the Student Advisory Service
Do you need information and/or support for issues relating to your studies? Our individual consultation sessions last one hour and are dedicated to discussing your issues, questions or queries. Our academic advisors from the Central Student Advisory Office are able to provide comprehensive information and/or help you find solutions to any problems you might be experiencing. Our individual consultation sessions are confidential and free of charge. If needed, you can organise subsequent sessions.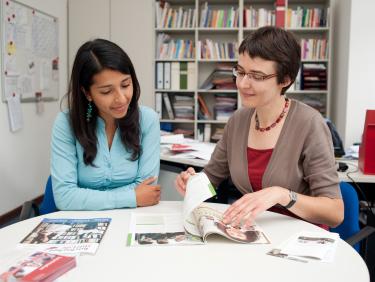 The Student Advisory Service is able to help you with a huge variety of issues, problems or questions. The following is a list of topics which we're able to advise on: 
Questions about academic programmes (at Heidelberg University or other universities) 
Selecting academic courses or careers 
Choosing to change your subject of study 
Questions relating to learning, to examinations and organisation of your studies 
The transition from a Bachelor's course to a Master's course 
Personal issues due to your studies 
Arranging an appointement
You can make an appointment by telephone: 
Phone: 
+49 (0) 62 21 / 54 54 54 
Office hours: 
Mon to Thurs from 9:00 to 16:00 
Fri from 9:00 to 13:00
Open Consultation Hours - No Appointment Required
Do you have questions about your course of studies? Simply come by during the open consultation hours offered by the Central Student Advisory Office. These in-person sessions are held in the Service Portal. Alternatively, you can attend online consultation hours via heiCONF. Our student advisors will be delighted to help you.
Central Student Advisory Office, open consultation hours in the Service Portal: Monday to thursday from 10:00 to 16:00 and Friday from 10:00 to 14:00
Online consultation hours: Monday to Thursday from 16:00 to 17:00 and Friday from 14:00 to 15:00 via heiCONF
Please do not enter the conference room until it is free and you are asked to enter for consultation. If waiting times are long, please do be patient, or return at a different time.
If you have a complicated and lengthy question or issue to discuss, we would ask you to book an appointment for more comprehensive consultation with our student advisors. To do this, ring the following number: 06221 545454