Counselling offered by the Central Student Advisory Office
Do you need any information and/or support on any matters connected to your course of studies? We are available every day for brief consultations on your unanswered questions in the open office hours. Appointments are not required. You can receive more detailed advisory service in individual counselling appointments and in workshops on specific topics.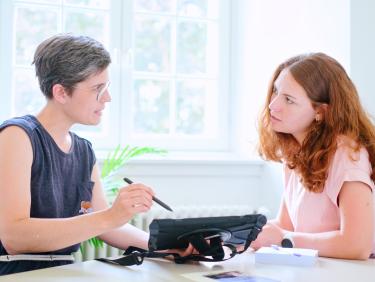 Open office hours without appointment
Do you have any questions about your course of studies? The Central Student Advisory Office is available for brief consultations in person, online, and by phone from Monday to Friday.
Personal: Drop by the open office hours of the student and teacher training advice office in the Service Portal at Seminarstraße 2. Our student counsellors will be happy to help you from Monday to Thursday, 10:00 AM to 04:00 PM, and on Fridays from 10:00 AM to 02:00 PM.
Online: Our student counsellors are available online via heiCONF from Monday to Thursday, 04:00 PM to 05:00 PM, and on Fridays from 02:00 PM to 03:00 PM. Please wait until the counselling place is cleared and we call you in for the advisory service after entering the conference room. In case of extended waiting times, please be patient or return at a later time.
By phone: You can reach our student counsellors for brief enquiries during the telephone consultation hours from Monday to Friday. We offer a special consultation time on the topics of teaching degrees and inclusive studies.
We are happy to take more time for your request if you have a complicated or time-consuming query. In this case, please schedule an individual counselling appointment.
We will take an hour to address your concerns in an individual counselling appointment. The student counsellors at the Central Student Advisory Office will provide comprehensive information and/or work to find solutions together with you. These appointments are confidential and free of charge. Follow-up appointments can be arranged if necessary.
The student advisory office will deal with a wide variety of concerns. The following are some example topics in which we can support you:
Questions about pursuing a course of studies (in Heidelberg or at other universities)
Study and career choice
Considerations on a change of subject
Questions on learning, examination, and management of studies
Transition from Bachelor's to Master's programme
Personal study-related difficulties
You can schedule an appointment for a consultation via the information hotline (+49 (0) 62 21 / 54 54 54, Mon-Thu, 09:00 AM - 04:00 PM, and Fri, 09:00 AM - 01:00 PM). Please indicate whether you prefer an appointment in person, by video conference, or by phone when scheduling your appointment.
The "Fit to Study" workshops have student counsellors supporting small groups on various subjects related to a course of studies. Join with other students to improve your self-management skills and find support for challenging topics around your course of studies. The workshops are held before the start of lectures and during the lecture period. Use the online form to sign up.