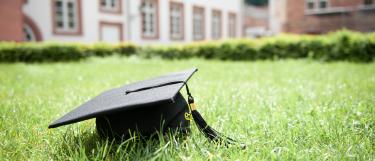 COVID-19-related hardship fund for doctoral candidates
Students are not the only ones struggling with the effects of the Corona pandemic. Numerous doctoral candidates now have to face unexpected hurdles caused by this pandemic. This might be due to the loss of a part-time job or the ceasing of support by the family, due to difficulties when it comes to obtaining literature or due to travel restrictions, which also means that research cannot always be carried out as planned. This also means, that quite often, doctoral candidates need more time to complete their thesis. In order to at least ease the financial worries of doctoral candidates, Heidelberg University has established a COVID-19-related hardship fund for doctoral candidates under the auspices of the Graduate Academy.
Also, thanks to the commitment of friends and supporters of the university such as the Gesellschaft der Freunde Universität Heidelberg e.V., financial support was granted to several doctoral candidates during the application period from December 2020 to April 2021.
Because of the corona pandemic, I had to postpone my fieldwork back to China, which, consequently, caused a delay to my PhD schedule. Thanks to the support from the COVID-19-related hardship grant, I was able to concentrate on my writing at the final stage of my doctoral project which investigates the relationship between contemporary Chinese artists and rural China between 1976 and today.
Bihe H., PhD candidate, Institute of East Asian Art History at Heidelberg University