Faculty of Modern Languages
Italian/Romance Studies
Romance studies considers Romance languages, literature and cultures. In Italian, the focus is on the Italian-speaking world (in particular Italy, Ticino).
Romance studies covers research and teaching across Romance languages, literature and cultures. The most important Romance languages, which all derive from Latin, include French, Spanish, Italian, Portuguese, Romanian, Occitan, Catalan, Gaelic, Sardinian and Rhaeto-Romanic. Variants of these Romance languages and their corresponding literatures are also found outside Europe, in areas including Latin America, North America, and Africa.
Degree courses in Italian encompass Italian language, literature, and cultural studies. In addition to this content, students attend language sessions which are taught exclusively by native speakers.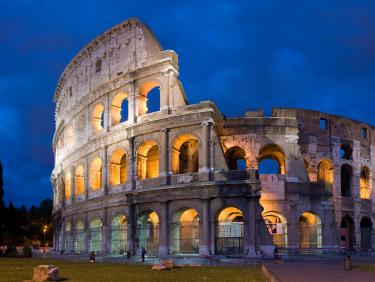 Special Features and Characteristics
Heidelberg University has ERASMUS agreements with fourteen universities in Italy (among others Bologna, Florence, Rome)
a connection to the Italian Center Heidelberg and to the related programme of scientific and cultural activities 
internal and external links with different research centres, for example the European Linguistics Centre (Europäischen Zentrum für Sprachwissenschaften, EZS) 
numerous international research partners
specific formats for courses conducted in the target language
Research at Heidelberg University is conducted in the fields of linguistics, literary studies, and cultural studies:
The main research interests in Italian linguistics are:
Everyday Italian language
Syntax in spoken Italian
Resources for interaction (language, gesture, eye contact)
Methods for field research and data collection
Language and dialect contact
Italian place names and surnames
Research specialisms within Italian literary studies and cultural studies:
"Why literature?" Aesthetic competencies
(Musical) theatre from the Enlightenment to the present day - between theory and practice
Novels and short prose, poetry and canzones (from the Trecento and Rinascimento, and with a particular focus on the modern period and present day)
Italian cinema, film, and series (TV, online)
Literature and media theory, including theories of affect, form, and genre
Cultural studies theories, popular culture and Mediterranean studies
Graduates of a degree programme in Italian may pursue a career in the following fields:  
teaching (German secondary school – Gymnasium) 
training and consulting institutions 
universities and research institutes 
media 
communications and translation 
publishing 
tourism 
and other fields in which knowledge of the Italian language, literature and culture is of benefit.
I study Italian with European art history because I have Italian roots and want to find out more about my heritage. The Italian language also makes it easier for me to delve deeper into art history.
Marco Vedana, 34, Italian/Romance studies, 2nd semester Bachelor
Further Interesting Subjects