Excursions
Each semester, the International Relations Office at Heidelberg University offers a diverse programme of cultural activities for international students. Our day trips give you the opportunity to discover numerous German towns and cities - a great way to familiarise yourself with Germany's cultural diversity.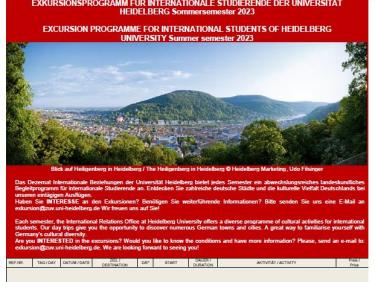 Are you an international student of the University of Heidelberg and interested in the excursions? Would you like to know the conditions and would you like to receive more information? Please send us an e-mail. The programm for the summer semester will be published on this website beginning of April 2023.
Important notice: participation is only possible after a written pre-registration per e-mail (with the reference number of the excursion) to:
exkursion@zuv.uni-heidelberg.de.
We are looking forward to seeing you!