Knowledge Transfer
Congress and Conference Management
Heidelberg University hosts congresses and conventions of the highest calibre. The university city of Heidelberg is an excellent location for scientific conferences.
While the university gives the city its character, Heidelberg also boasts a wealth of research institutes and rapid-growth businesses. To organise congresses and conferences, the university offers a range of services, individual consulting and selective support.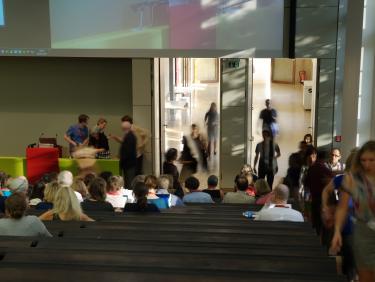 The Congress and Conference Management (UniKT) supports institutes and facilities of the university in the organisation of scientific events. UniKT offers consulting and services, from concept to execution.
Congress expenses: Since congresses are usually financed by third-party funds and congress fees, organisational support services (e. g. media technicians or other supplementary personnel, room rentals, conference materials) and other direct services provided by the university should be priced in. Please contact us, we will be happy to advise you on where we can provide support and draft a proposal for your event!
Events at the Marsilius-Kolleg
The Marsilius Kolleg stands for exchange within the scientific community and with external partners. For related events, various premises in building INF 130.1 (opposite the DKFZ) are available. The lecture room, which can accommodate up to 100 people, the spacious foyer and complementary rooms offer flexible use in a high-quality environment.