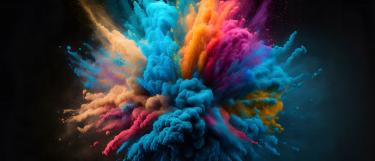 How can the relevance of research be utilized for society, the economy and politics? How can impact be transferred from within the university to the outside world? Knowledge and technology transfer as the third pillar of Heidelberg University are the focus of its first IMPACT DAY. As a space for encounters, the IMPACT DAY offers the opportunity to be inspired, establish new contacts, socialize and exchange ideas. The diversity of Heidelberg University in the field of transfer, from the latest inventions to social innovations, will be presented.
The IMPACT DAY will take place on May 11, 2023 for the first time and will be held in the Chemistry Lecture Hall Centre (IFN 252). The day is divided into the IMPACT FAIR - a market of opportunities - and an evening event where the prizes for the hei_INNOVATION ideas competition will be awarded in addition to a keynote and a panel on 'The understanding of knwoledge and technology transfer at a comprehensive reserach universtiy'.
11 am to 4:30 pm - IMPACT FAIR
 5 pm to 7 pm - Ideas Competition Award Ceremony, Keynote and Panel
from 7 pm - Get together
At the IMPACT FAIR, not only the participants of the hei_INNOVATION Ideas Competition 2023 will present themselves with their transfer, impact and start-up ideas, but also transfer projects by members of the university from all disciplines, start-ups and spin-offs that have emerged from the university, as well as university institutions and their partners that promote the transfer of knowledge and technologies in Heidelberg.
Interested parties can apply to participate in the IMPACT FAIR via heiinnovation@uni-heidelberg.de.
At 5 pm, the best ideas from the hei_INNOVATION ideas competition, which the University's transfer agency launched in winter 2022, will be premiered at an evening event. In the context of this first competition, 48 ideas were submitted, of which the three best ideas in each of the categories "Social Innovation", "Science/Tech Innovation" and "Business Innovation" will be presented once again by the idea provider. The best idea in each category will receive prize money of € 5,000.
The evening event will also feature a keynote speech by Prof. Stephan Urban and a panel on the topic of 'The understanding of knwoledge and technology transfer at a comprehensive reserach universtiy' with scientists from the four Fields of Focus and the Vice Rector for Innovation and Transfer.
The event will take place in the large lecture hall of the Chemistry Lecture Hall Centre (INF 270).
Programme:
5 pm - Welcome
5:10 pm - Presentation of the best ideas in the categorie 'Science and Tech Innovation'
5:25 pm - Presentation of the best ideas in the categorie 'Social Innovation'
5:40 pm - Presentation of the best ideas in the categorie 'Business Innovation'
5:55 pm - Audience Award vote
6 pm - Keynote Prof. Dr. Stephan Urban
6:15 pm - Panel discussion
6:45 pm - Award ceremony for the best ideas in the ideas competition 2023
from 7 pm - Get toghether
Gefördert durch