knowledge and technology transfer
Ideas competition
The hei_INNOVATION idea competition offers members of Heidelberg University the opportunity to present and promote their own innovative product or business ideas or research results with potential for commercialisation or change. The idea is evaluated by experts from business and research for its impact or commercialisation potential. After a two-stage selection process, the best ideas are presented awarded prizes and during Heidelberg Universities' IMPACT DAY 2023.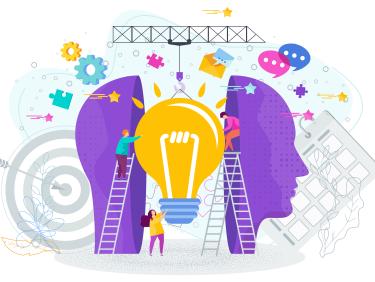 Scientists, students and employees of Heidelberg University work on new challenges every day in order to generate, acquire or manage knowledge. During these work processes, exciting connections and new discoveries are often made or novel approaches to solutions are developed that contribute to the progress of our society.
The hei_INNOVATION ideas competition will now honour the ideas and thoughts of numerous scientists, employees and students who make a sustainable contribution to our economic, ecological and social life. The ideas competition thus gives outstanding idea providers a platform and presents the active transfer culture at Heidelberg University.
Participants who are selected as finalists benefit from valuable feedback from the jury and receive an individual pitch training. They also have the opportunity to present their innovative idea to a broad audience at an Innovation Day.
The best ideas in each category will be awarded prize money of €5,000 each.
At Ruperto Carola, new findings are made every day that can be groundbreaking for a wide variety of social target groups and objectives. For this reason, prizes are awarded in three different categories:
Science- and Tech Innovation
Social Innovation

Business Innovation
The deadline for applications has passed.
Who can participate in the ideas competition?
All members of the university who are enrolled or have a valid employment contract.
How is my idea protected during the competition?
The ideas submitted will not be passed on to third parties. In the course of the evaluation by external jurors, all jurors are obliged to sign a confidentiality agreement. After the end of the idea competition, all submitted ideas will be deleted.
Our team is not from Heidelberg. Can we still participate?
If at least one team member is a registered student or has a valid employment contract with Heidelberg University, the (entire) team may participate in the competition.
Can I also participate in the competition as a start-up?
No, the idea must not yet be commercially exploited at the time of submission.
Does participation involve any costs?
No, there are no costs for participating in the hei_INNVOATION ideas competition.
Do I have to present my idea at the final event?
Yes, if an idea is awarded a prize by the external jury, the idea has to be presented in front of an audience. All award winners receive individual pitch training from hei_INNOVATION in advance.
Can an idea also be submitted in English?
Generally, ideas should - if possible - be submitted in German. If you would like to submit your idea in English and still need support, please send an email to info@heiinnovation.uni-heidelberg.de
Supported by
Promoted by