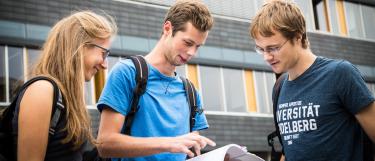 Students from abroad have the opportunity to study full-time at Heidelberg University or to complete one or more semesters abroad. As a rule, the language of instruction is German, but a number of English-language courses are also offered.
Heidelberg University offers students from abroad a wide range of support and advisory services, such as tutorials or the Buddy Program. Heidelberg University also supports students from abroad with questions about housing, financing and visas.
CORONA VIRUS: Information for students
The current regulations for on-campus teaching in connection with the Covid pandemic (e.g. obligation for testing, vaccination possibilities etc.) are available here:
Coronavirus: FAQ about student affairs and teaching
Important notice
Please note that in the university administration building visitors and staff are required to maintain a distance of at least 1.5 meters at all times and that they are obliged to wear a medical mask covering their nose and mouth. This also applies to consultations in the student administration and the student advisory service. Entry to university facilities is only permitted to those persons who do not manifest any of the grounds for exclusion defined in the Corona Ordinance of the State Government of Baden-Württemberg, such as the typical symptoms of an infection with the coronavirus.